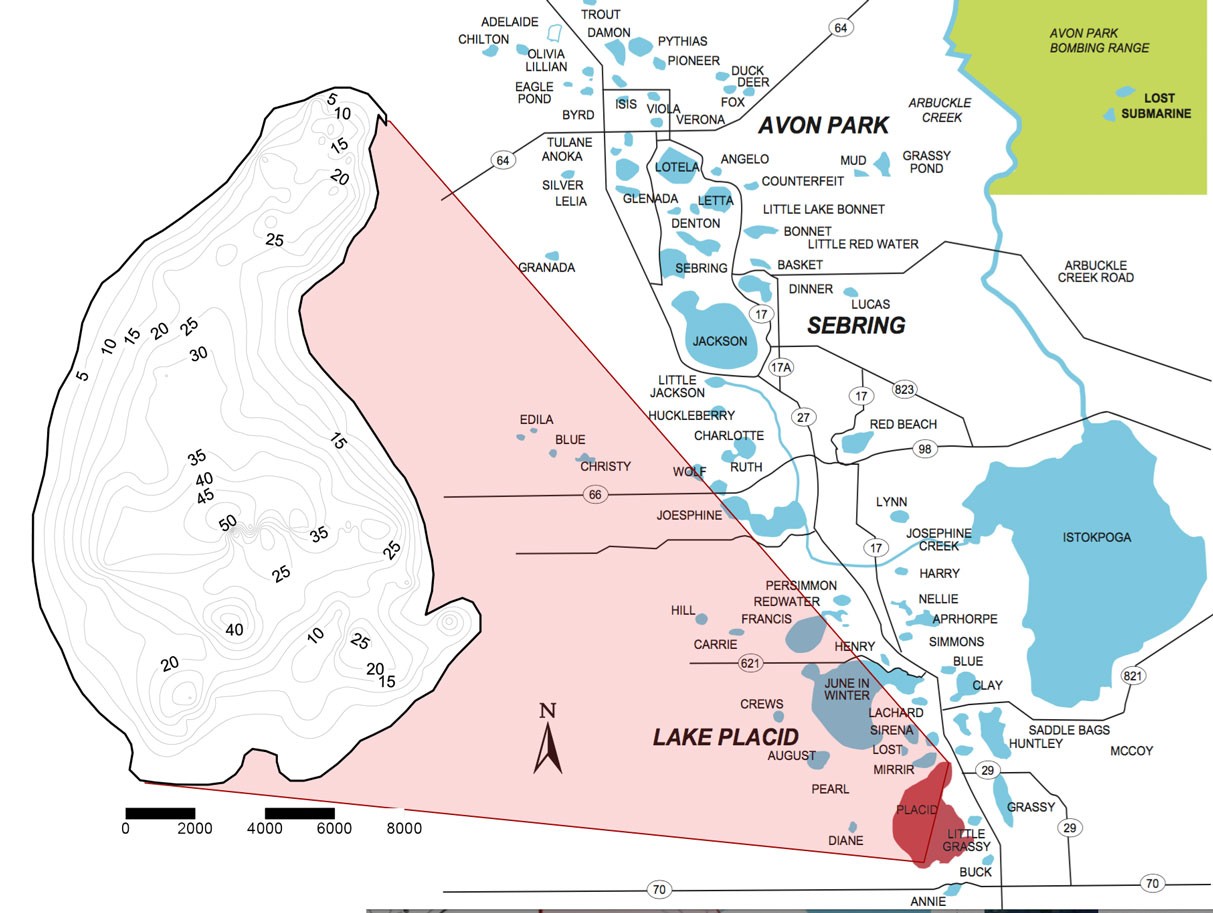 Located in Highlands County, Lake Placid is one of our areas gems. Hidden off of US Highway 27 just south of the town of Lake Placid, this lake is no secret to local anglers. Being a sizable lake of 3,320 acres, this spring fed lake holds a number of trophy sized bass.
Unlike your typical bowl shaped lake, Lake Placid has a bottom full of contour breaks, ledges and deep pockets. Whether fishing the northern edge, the center, or towards the southeast and southwest corners of the lake, there are deep pockets to be found. The average depth of Lake Placid is 27-feet and the deepest pocket reaches a depth of 57-feet.
For a lake this size, most of the perimeter of the lake is thinly populated with most of the residential homes being situated on the western to northwestern side of the lake. A large portion of the eastern edge borders a citrus grove while the south end of the lake is completely undeveloped and holds some great shoreline vegetation.
Lake Placid can be accessed via two boat ramps. The western boat ramp off of Placid View Drive has a concrete launch, a short dock and paved parking for approximately 20 trailers. The eastern launch located at the end of of Harris Drive is a much smaller launch with a concrete ramp, no dock, and dirt parking along the access road.
The fishery in this lake is typical of south central Florida lakes. You'll find largemouth bass, black crappie, shell-crackers, bluegills, Tilapia, chain pickerel, catfish, carp, and a large variety of panfish. Lake Placid also hosts a wide selection of baitfish including Florida Chubs, shiners, and shad so there is plenty of food to fatten up trophy sized bass.
Being a deeper lake, the water is generally clean and of good color. Despite having great bottom contour lines, the deeper portions of the lake have little bottom cover and structure. However there are plenty of man-made brush piles and other natural fish aggregating devices (FADs) such as small rock piles and wood debris fields that provide shelter for both baitfish and predator fish. As for the shallows, the shoreline has a few areas populated with boat houses and docks and lots of scattered vegetation. Most of the emergent vegetation consists of cattails, hay grass, and Kissimmee Grass with a scattering of Shrimp Grass. During the summer months, lily pads and hyacinth pads can also be found along portions of the shoreline.
As a lake of reasonable size and depth, the lake has a seasonality to it. During the months of January through March, the shallow shorelines are very active and filled with spawning bass. Warm winter days will bring the females onto the beds and the fishing can be explosive. On colder days, the bass will lay just offshore of these spawning areas waiting for the conditions to improve. During this spawning period, swim jigs in white and Junebug colors work well. Gambler's Big EZ and other paddle-tailed soft plastics also produce big fish. Then again a simple Texas rigged plastic worm will also attract a nice fish or two.
Once the summer sun heats up the lake, the bite moves offshore and into deeper water. Here knowing how to use your electronics to locate structure, brush piles, and schools of bait is critical in consistently producing fish. Sure the shallows will still provide a good bite during the pre-dawn hours or on an overcast day, but this bite is usually short lived and the rest of the day the shallows will only hold smaller size bass (dinks). During the summer months, there are a variety of fishing presentations that can work for you. Deep crankbaits in and around brush and rocks piles can be extremely effective, as well as shaky head and drop shot presentations. Texas and Carolina rigs will also produce if you can get then deep enough and on target to be effective. When fishing brush piles, just being 'close' is generally not good enough, you need to be on the side the fish are holding in to be effective. Being a clean water lake, natural colors such as green pumpkin, watermelon, and Junebug all work well in this lake.
Lake Placid routinely hosts a large number of local bass club tournaments though out the year. During the winter months it's not unusual to see 25-lb plus bag limits when the fish are in the shallows. Come summer, the numbers fall off and you'll have a few anglers with nice heavy bags and then others that come up empty handed. This is because Lake Placid is not shallow water lake, it has depth and large temperature gradients, and the fish move through-out the water column. These conditions challenge the angler and those fishermen who can adapt and are willing to change up their presentations come out on top and usually it's with a trophy sized kicker bass.
[easy-social-share]