Lakeland Jr Bassmasters, Big 'O' Brawl | August 6-7, 2016
Venue: Lake Okeechobee
After an extended period of calm conditions, The Big 'O' served up some moderate winds out of the south-southwest to these visiting high schoolers on the first day of the 2-day tournament. On Saturday most of the field of 29 boats headed into the lake from C. Scott Driver Park and after a few hours in the washing machine, some ventured back into the Kissimmee River for calmer waters and more favorable fishing conditions. Still some anglers were able to bring in excess of 15-lbs to the scales. On the second day of the tournament the winds did not let up though the young anglers learned how to handle the conditions on the Big 'O' and were able to better themselves. By the end of the 2nd day, Fisher Cusic of the Younger Age Group (8-14 years old) accumulated 21.71 lbs to take home 1st Place honors for that division. Aaron Lomneck came in 2nd with a 2-day weight of 20.67-lbs. The Big Bass for the Younger Age Group weighed 6.42-lbs and was boated by Garrett Thomas. In the Older Age Group (15-18 years old), Bryce Goff topped his division with a 2-day weight of 30.91-lbs as well as taking home Big Bass honors with a 6.83-lb kicker. Second place within the Older Age Group was captured by local angler Blake Everett with his 25.33-lb effort.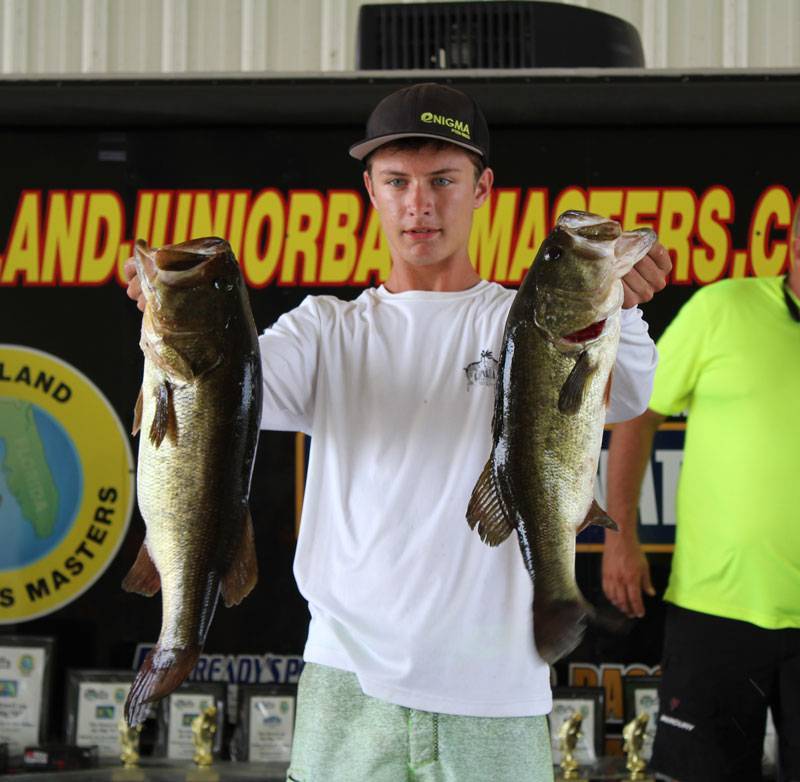 A special thanks and shout goes to the Okeechobee Tourism Development Council for bringing the group here as well as to all the local boat captains who volunteered their services to these young anglers.
Next Tournament will be the D.S.I Slam to be held on Lake Shipp on the Winter Haven Chain on Sept 17th. The next Team Series Tournament is scheduled for Oct 2nd for the Harris Chain.
If interested in joining either the open series or the team series, contact club president Martin Bozeman at 863-640-8349 or visit www.LakelandJuniorBassmasters.com for more details
1st Place: Fisher Cusic, 21.714-lbs
2nd Place: Aaron Lomneck , 20.67-lbs
3rd Place: Garrett Thomas, 18.91-lbs
Big Bass: Garrett Thomas, 6.42-lbs
Older Age Group (15-18-yrs)
First Place: Bryce Goff, 30.91-lbs
Second Place: Blake Everett, 25.33-lbs
Third Place: Bobby Bakewell, 24.85-lbs
Big Fish: Bryce Goff, 6.83-lbs