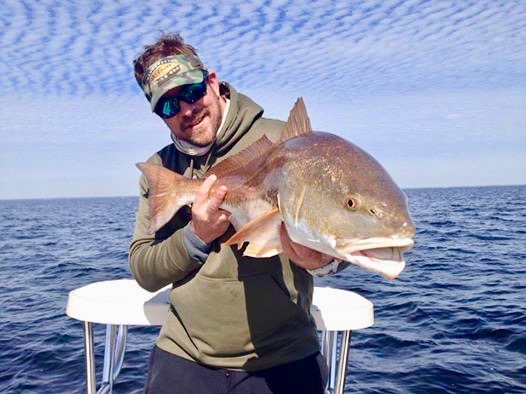 Lanark Fishing Report- March 2017
By: Liam Callaghan
February continues the trend of cold temperatures and clear water. The Lanark Region in the winter months can be extremely productive if you give yourself time to find clean, clear water. I will fish multiple areas to locate a change from "muddy" or "milky" water to clear. Not only are the fish easier to see but they tend to react to artificial more aggressively.
This is the time of year that I start to reduce the size of my baits to help entice opportunistic feeders. Spring, summer and fall I recommend larger baits to match the hatch but for winter, size down to present a better presentation. Target shallow flats that have exposed grass or oyster outcrops and focus on working your bait as close to the structure as possible. When the water starts to crest the tops of the bars work yourself off the structure methodically.  A great upper to middle column bait is the spoon. Aqua Dream Living by Captain Mike Hakala makes a great spoon that mimics most bait. Pick your favorite color and work it over mixed bottom and oyster bars. Another fantastic artificial bait for the winter months is the 6" DOA glow jerk bait or the Slayer Inc. soft plastic line. Rig these soft plastics with a 1/16 oz. weed less hook or a Slayer Inc. jig head.  I feel tide in February is another very important factor to catching fish. Look for the mid-morning high tide to catch all of the opportunistic feeders making their way onto warmer flats heated by the sun. Redfish, trout, sheephead and drum can be caught in huge numbers in the winter months following this mid-morning pattern.
The trout and redfish bite has been solid in areas between Turkey Point and Carrabelle River with reports of anglers limiting out. Most trout reports I am getting are folks set up in 1-2 feet of water drifting over mixed bottom throwing soft jerk baits in the middle to lower water column.
Leif Lange and family  recently reported good numbers of trout and redfish out of Turkey Point and Alligator Harbor. Leif told me that the redfish were very receptive to spoons and 6' Gulp Jerk Baits on spinning tackle.
The redfish and trout bite out of Carrabelle continues to be very good with solid reports coming from Jeff Suber of FCKA.net. Jeff says the hot bite has been on suspending baits in 1-2 foot . He says there have been a number of solid reports of sheep head, black drum and redfish coming from areas from North and South of the mouth of the river.
The Big Bend has one of the best fisheries in the entire state, so get out, support your local tackle shop and bend a rod!