by Steve Scott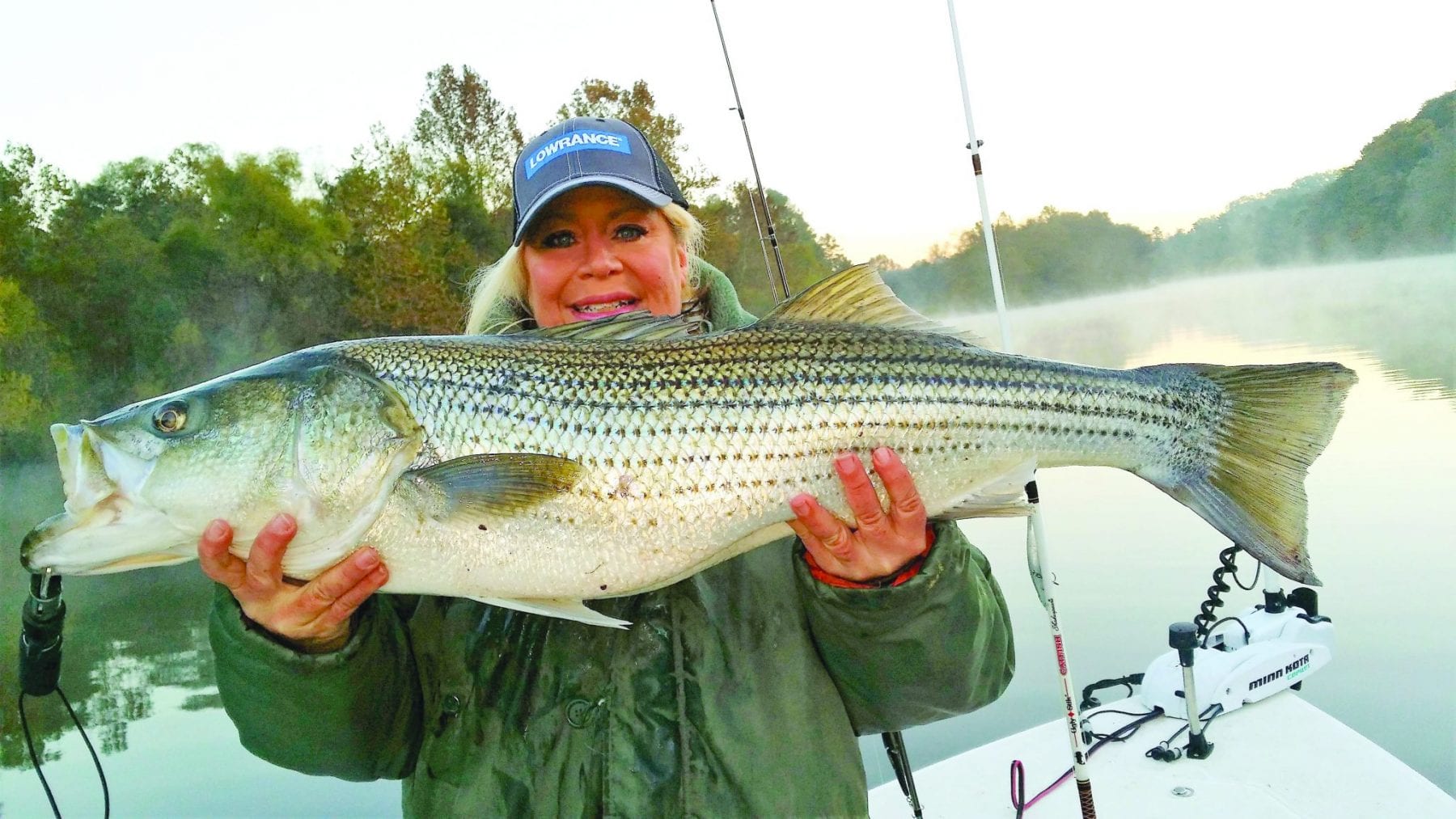 November was the continuance of junk fishing as we call it. It means that you would use anything available to catch a striper because of the turnover onset with the cause being a myriad of water temperatures. That is why I said November was "River Time" this year. The water temperatures remained consistent and the turnover did not affect the water as much in the river as in deeper water. December water temperatures will be a little colder as expected and the turnover will be coming to an end soon.
With the water temperatures in the rivers in the low sixties falling into the fifties, it makes for an excellent time to fish for stripers in the rivers. Pulling baits like trout and all sizes of gizzard shad against the flow using inline planer boards and diagonal bobbers remains my choice of pattern.
Being the end of this year it's time to mention a summary of tips we have used this year. What is your recipe for success? Check last years' log for the same time period for temperature, conditions and techniques; go with what you know; go where you caught before; share experiences with those in your buddy network; and here are some Do's and Don'ts to keep in mind: Do's – make decisions with safety in mind; always give drag when fighting a striper; use GPS trails to navigate; set a time limit and stick to it – set an alarm; when the fishing area gets crowded leave – too many pings affect fish; learn from others; change your presentation if fish stop biting; if marking fish with no bites come back later; if fish are not taking bait in one direction, go in the opposite direction; if you suspect a bite, pick up the rod and tug or tighten the line; and pull at different speeds or do crazy Ivans.
Don'ts – when pulling bait in the wind, never quickly go to anchor or spot lock with lines out; don't put out full complement of rods when checking a new area; don't be discouraged by others telling you it's not time for this or that; don't leave fish to find fish; don't pass the rod from one to another with a fish on; don't get too greedy with too many lines out; and a Fish is a Fish is a Fish – if you are striper fishing and catch something else enjoy it.
TIP OF THE MONTH: Remember the flasher? All of our units still have them. When you are downlining marking several fish and you decide to spot lock or anchor your trolling motor, turning on your flasher will give you a 360° view under your boat.
For more information go to: https://TeamLanier.wordpress.com/menu.