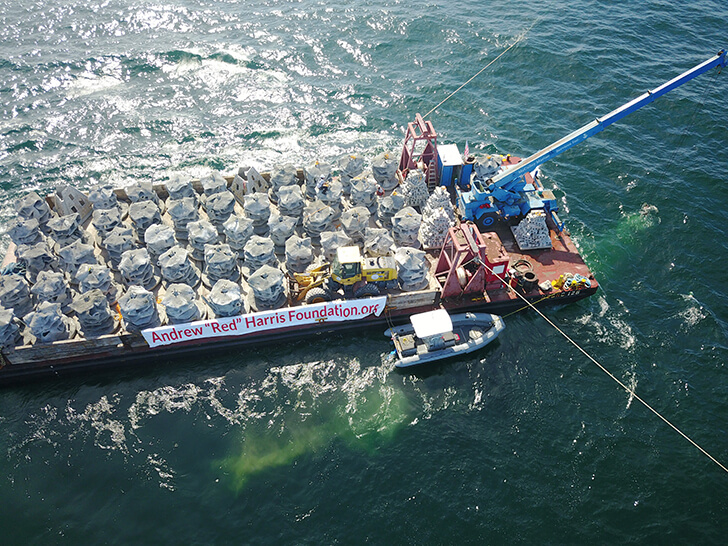 The Andrew "Red" Harris Foundation breathed new life into south Florida's marine ecosystems with a massive artificial reef deployment about a mile and a half offshore of the Jupiter Inlet in August. The $500,000 deployment is the largest ever conducted by a private foundation on Florida's east coast.
While the sheer size of this deployment is impressive, what makes this project unique is the design of the artificial reef modules, as they mimic natural reefs. Additionally, these reef modules cause scouring along the ocean floor, which exposes bedrock and aids in the recruitment of algae, soft corals and sponges. The modules weigh 4 tons each, and 134 of them were deployed on Aug. 9 along with 1,000 tons of boulders.
ENGEL, the leader in AC/DC fridges and freezers, high performance roto-molded coolers, vacuum insulated drinkware, outdoor adventure gear and soft-sided coolers, and No Shoes Reefs—a joint venture of ENGEL and Kenny Chesney's No Shoes Nation—participated in the historic deployment. The venture was partly funded by dollars raised by No Shoes Reefs, which donates a portion of the sales of No Shoes Nation-branded products to building artificial reefs in the Gulf of Mexico, Atlantic Ocean and surrounding rivers and waterways.
"Anyone who lives in south Florida enjoys our magnificent waterways," said Paul Kabalin, CEO of ENGEL Coolers. "Because ENGEL calls south Florida our home, we feel passionate about protecting our coral reefs, and creating new reefs, which are vital for so many marine species and for the protection of our shores. The No Shoes Reefs brand and associated products exist solely to ensure organizations like the Andrew "Red" Harris Foundation can continue restoring, creating and deploying reef modules to ensure our ecosystems thrive. We are very excited to have played an integral role in this recent record-breaking deployment, which will undoubtedly breathe new life into our fragile marine habitats."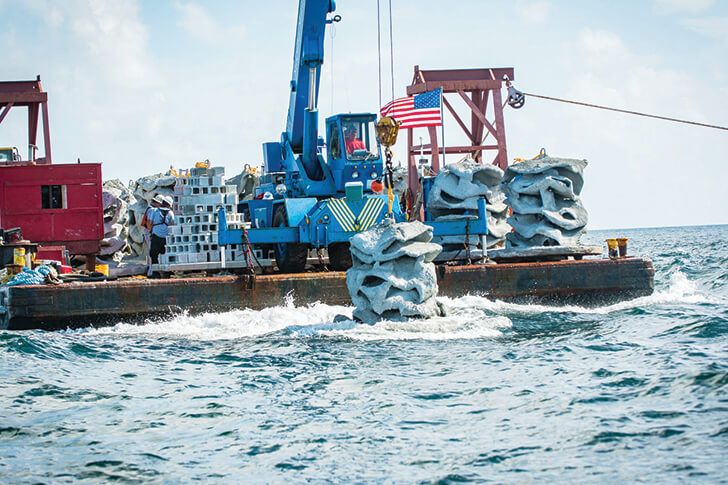 ENGEL Coolers Vice President, Mike Dixon, who serves as a board member for the South East Florida Coral Reef Initiative (SEFCRI), is very passionate about ENGEL's role in reef creation and preservation.
"Partnering with the Andrew "Red" Harris Foundation represented the most immediate and impactful opportunity to aid the SEFCRI (www.southeastfloridareefs.net) region," Dixon explained. "This large coral reef tract in southeast Florida is lesser known compared to the Florida Keys National Marine Sanctuary and faces significant challenges, water quality issues, and sedimentation threats from beach "nourishment" and port expansions being primary among them. Placing this material in this ideal location allows for both the artificial and natural elements to aggregate reef life and allow a vibrant ecosystem to take shape where there previously was barren sand."
For more information about No Shoes Reefs, or to purchase a limited edition No Shoes Reefs shirt or hat, visit noshoesreefs.org. The t-shirts and hats feature the No Shoes Reefs logo, as well as the No Shoes Nation skull and cross bones. Close to 40 percent of the proceeds from sales of these items goes to support the reefs. Look for future No Shoes Reefs products from ENGEL in the future.
For more information visit www.andrewredharrisfoundation.org