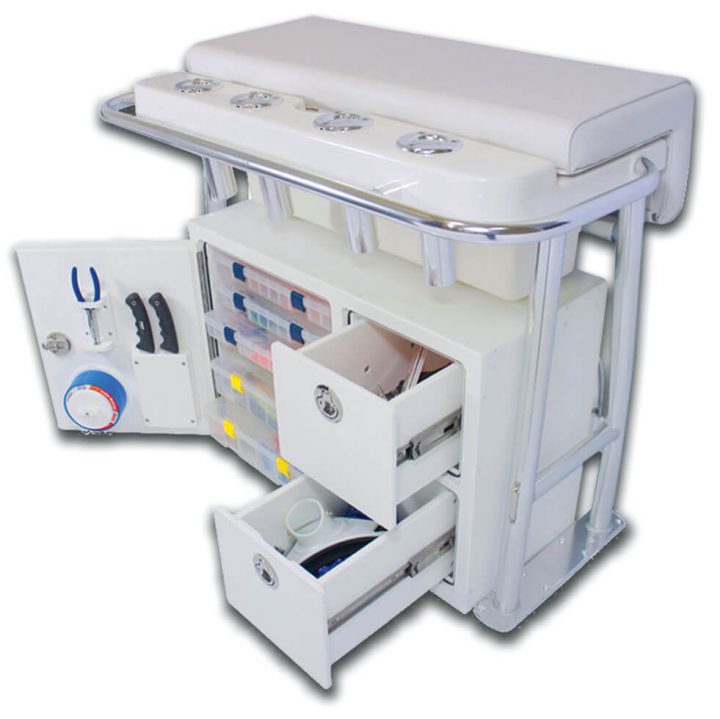 When the people at Boat Outfitters say they can customize your boat like never before, they mean what they say. With over 150 tackle storage options to choose from, there is surely one that will meet your needs. Their new leaning post tackle centers open up additional tackle storage possibilities that simply haven't been available to boaters in the past. Designed to fit underneath your existing leaning post, these tackle centers have a wide variety of features including: Plano tackle trays, divided drawers, tackle bags and leader holders.
The area below your leaning post has long been either simple cooler storage or wasted space. Now boaters can utilize that area to have their rigs and gear organized and ready at a moment's notice. The adage "luck happens when preparation meets opportunity" is a very true sentiment for all fishing trips. Quickly retrieving the correct rig or tool can make or break your day. We've all been there – you're in the middle of the best action of the trip and you're frantically searching for something rather than keeping bait in front of the fish. It doesn't have to be like that! With integrated tackle storage units you can quickly grab what you need and get your bait back in the water.
The Boat Outfitters team designs tackle boxes for over 200 leading boat builders including Boston Whaler, Everglades Boats, Scout Boats, Sea Hunt and Yellowfin. If one of the standard tackle centers does fit or accommodate your specific needs, Boat Outfitters is happy to design and customize a box that will work for you in a King Starboard color that matches your boat.
If you would like to customize, repair, or update your boat and want help from the marine industry experts, look no further than Boat Outfitters. Check out their website or give them a call. www.boatoutfitters.com or 866-633-7961.