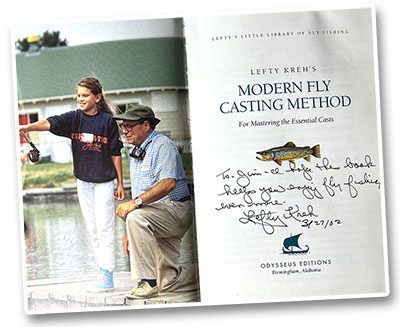 By Jim Parks
While out on my first fishing trip of the year, my mind wondered as I watched my streamer making its erratic path through the current. I began following a train of thought that took me down a path more direct than that of my fly, but still permitting me to maintain focus on any trout that might slam my olive wooly-booger. What rose to the surface were my memories of the late, great, legendary master fly-caster Lefty Kreh.
Using my then recent marriage as a time reference, we were living in an apartment in what I believe was 1988 when the Fly Fishing Conclave was held in nearby Gatlinburg. Having been fly fishing about ten years and being in my early twenties, I thought, as do most at that age, that I knew pretty much everything I needed to know about the sport… LOL!!! In my defense, back then there was no Internet and very little information about trout fishing except what was learned through questionable rumors and found in magazines that related mostly to distant waters. So, the fly fishing event piqued my interest.
I pulled into the Glenstone Lodge, parking my wife's Mercury Capri around the back at the far right corner of the parking lot. Noticing a stretch of tarp about four feet wide and one hundred feet long laid out in the parking lot, I parked about 3 spaces beyond one end of it. I remember reading that a "casting demonstration" was to be held. As an "experienced," high-sticking nymph fly fisherman in the small streams of the Great Smoky Mountains National Park, I rarely had to cast over twenty feet and I never thought I would need to. It was truly a small world for me. So, as I left my wife's car behind, I had no doubt it was safe from whatever was to come.
Having attended a seminar or two that morning, I followed a few guys out back where there was a crowd lined up making me wonder if the Rolling Stones were in town! People were standing shoulder to shoulder on each side of the tarp, one row facing the other for the entire length. To cheers, out walked this older gentleman, a bit chubby, with a smile on his face. He was a funny guy who laughed and told jokes as he began stripping out fly line. As a young fly fisherman, I was told two things about fly line. First, NEVER allow it to touch the water as it would surely scare the wild trout, and two, the main purpose of fly line was to take up space on the reel. So, needless to say, I was a bit puzzled as I watched this guy strip out all ninety feet of his fly line! In a matter of perhaps two back-casts, he was laying his leader across my wife's car from the far end of the tarp where he stood! As if that wasn't enough, he took the rod apart and repeated the cast using only the last segment of the fly rod!! Watching Lefty about sixty feet to my left, my chin lying on the asphalt at my feet in shock, he flips the line straight up in the air and calls out, "Guy on the right in the red hat." I looked at the guy standing ten feet to my right. Lefty, with little motion, sends a perfect cast down the middle of the tarp with the last three feet of his line, laying gently across the guy's right shoulder!!! To this "experienced" fly fisherman, what I had just witnessed was more shocking than if Elvis had handed me my Big Mac in the drive thru at the McDonald's in Pigeon Forge!
That was my first experience of Lefty Kreh. The following years blessed me with more exhibitions of his amazing skills, and to say he made a HUGE impact on me is a true understatement. Ten years later, I used his book to teach myself how to cast greater distances, sans the shoulder loop, to prepare for my first saltwater trip to chase bonefish. To this day, I occasionally refer back to that little book.
My last visit with Lefty was when he made an appearance at the Little River Outfitters in Townsend, Tennessee. After his casting demo, we walked inside. I walked out to my car to get my copy of his book for him to autograph. Upon my return, he was commenting how he had seen his wife very little recently due to his travels. Like mine, his wife never begrudged him his time away. She had a special understanding of his value and service to the fly fishing world. As I approached him with my book, he graciously autographed it as I thanked him for his help. We chatted for probably 10 minutes when, ever the instructor, he nodded his head toward the back door, "Let's go out back and I will help you with your cast."
To be honest, I was a little nervous about having a one on one with Lefty. I did not feel worthy of his time and wanted to just get to know the legend on a personal level. So I answered, "Lefty, weren't you just saying you haven't seen your wife much lately? If you start working on my cast, you'll never get to see her again!"
With that, Lefty flashed that big smile of his and we went on talking fly fishing. Whoa…was that a nice brown that just flashed at my streamer?!
Jim Parks, a native of Newport, Tennessee, has spent forty-five years fly-fishing in the Great Smoky Mountains National Park, which he considers his home waters. For autographed copies of his book "Tails of the Smokies" contact him on Instagram at TailsOfTheSmokies. Jim currently resides in Kodak, Tennessee, with Trena, his wife and best friend of thirty-five years.