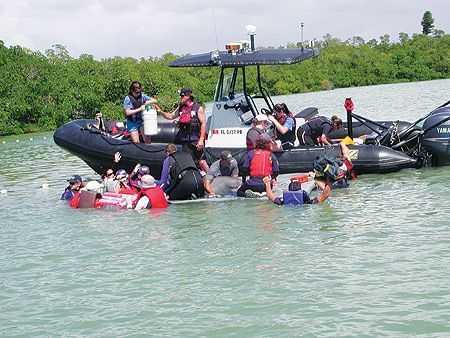 By Renee Wilson
Fishing line has evolved greatly over the years. With so many options available, like monofilament, fluorocarbon, braided line and fiber wire, an angler has plenty of choices to help them land their catch. While these lines contribute to more effective fishing, they can also result in unintended consequences when left behind in coastal areas.
Recently, an eco-tour boat in southwest Florida noticed a bottlenose dolphin with fishing line wrapped around its tail. The line was cutting into the dolphin's flesh, causing a life-threatening infection.  They called for help and a multi-agency rescue effort resulted in the successful capture, treatment and release of the dolphin back into waters in Rookery Bay National Estuarine Research Reserve (RBNERR), a program managed by the Florida Department of Environmental Protection's Office of Coastal and Aquatic Managed Areas (CAMA).
"We removed several kinds of fishing line from the dolphin's tail," said Denise Boyd, research associate with Florida Fish and Wildlife Conservation Commission's Florida Wildlife Research Institute, who provided assistance in the capture. RBNERR staff helped with logistics, including providing a vessel and knowledge of local waters. Boyd added that it takes many areas of expertise for an effort like this to be successful. Medical treatment was rendered in the water and on shore by veterinarians from Sea World and other partners before the animal was equipped with a satellite tracking device and released back into the water.
As more Floridians and visitors take up fishing, it's important to recognize the potential impacts of discarded fishing line on sea birds, marine life and more. In addition to entanglement, fishing line can be ingested, snag other anglers' gear, damage boat propellers and  can even potentially harm scuba divers enjoying the coral reefs.
Anglers can help protect Florida's natural resources by following a few simple guidelines while fishing:
Retrieve any line that gets snagged in the mangroves or on other structures.
Secure all line and loose items so they do not blow overboard.
Carefully reel in and trim line from hooked birds, removing the hook if possible.
Consider using biodegradable fishing line (e.g., bioline).
Participate in local coastal clean-ups.
Recycle your fishing line at designated locations.
For details on recycling bin locations or how to launch your own recycling program, visit http://www.fishinglinerecycling.org. To report a marine mammal in distress or if you spot a dolphin, whale or manatee carcass, call the Marine Mammal Stranding Network hotline at 888-404-FWCC.
CAMA protects sensitive ecosystems within three National Estuarine Research Reserves, the Florida Keys National Marine Sanctuary, the Coral Reef Conservation Program and Florida's 41 aquatic preserves.  For more information about Florida's Coastal and Aquatic Managed Areas, visit http://www.dep.state.fl.us/coastal/. DEP's award-winning Florida State Parks offer beaches, rivers, springs and a variety of opportunities for fishing and recycling fishing line.
Renee Wilson is Research Translator for Rookery Bay National Estuarine Research Reserve in Naples and has been a Florida angler since 1988.