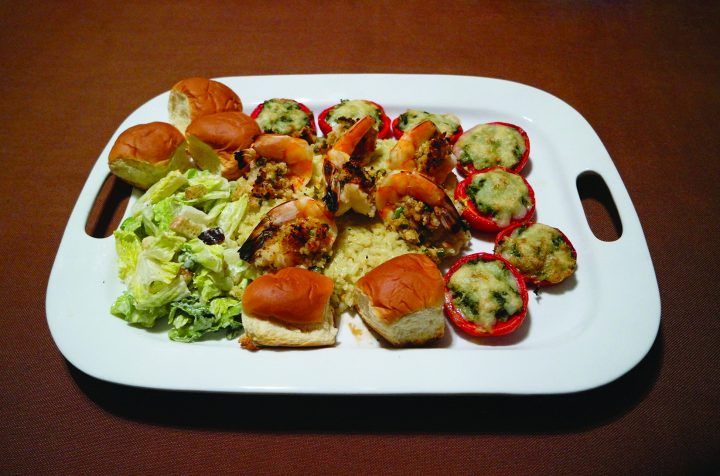 By Janet Kunde
One day while driving to our hunting camp Cliff mentioned it was time for me to do the recipe for the magazine. We had been talking about stuffing seafood and I started giggling and thinking to myself lobster is stuffed with shrimp but I had never seen shrimp stuffed with lobster and the idea for the following recipe was born. We both thought it was a good idea and the following is the result. Hope you enjoy!
• 1 dozen large prawn or  super large shrimp tails on, cleaned and split open
• 1 or 2 lobster tails cut up, lightly cooked
• 2-3 scallions sliced thin
• 1 Tablespoon rinsed capers
• ¼ green pepper thinly sliced
• 1 slice onion chopped small
• Italian bread crumbs
• ½ tsp. Dijon mustard
• Panko bread crumbs
• Butter
• Olive oil, may be spray
• Binder (milk, egg, mashed potato etc.)
Turn on oven to broil. Clean and split shrimp so flesh rests flat (One wide piece of shrimp not 2 pieces) on board. Pat dry. Cut up green pepper and onion and sauté until just limp in butter. Let cool and add to cut up lobster meat, scallions capers Dijon mustard and Italian bread crumbs. Mix together and add a binder to bring together (I used mashed potatoes). Melt butter and place in bottom of baking dish. Place shrimp in melted butter flesh side down and take a spoonful of lobster mixture and place on top of shrimp. Sprinkle with panko bread crumbs. Put a light drizzle or spray of olive oil for crispness. Broil for 5 to 6 minutes or until shrimp are just cooked through.
This is a time consuming recipe so allow plenty of prep time. I served it with spinach stuffed tomatoes and risotto and Caesar salad. Enjoy!