By Captain Daniel Espinosa • Maverick Sport Fishing
The real story this year in Costa Rica fishing is that the entire season is a couple of months late. In my 30 plus years of fishing these waters, I have seen this before. No telling why it sometimes happens that way.
What is means for the summer is really yet to be seen. My partner Larry Drivon remembers one of his best fishing days ever was in late June. With a late season, that could easily extend into July and August. That is for "day trip" fishing. The kind that you get with a regular charter or out on your own boat to about 30 to 40 miles off shore for the day.
Of course, for spectacular marlin fishing an overnight, or several-day, trip to the sea mounts could easily produce double digit blue marlin. Two-day trips have produced between twenty and thirty blues many times. A three or four-day trip can produce over 50.  Back to earth. Most such trips produce 8 to 12 per day if the fishing is good.
With a late season year, I have seen great sail fishing along with mahi and tuna stretch well into the months of July and August. My crystal ball is not reliable in predicting fishing in the future (sorry about that), but I can say it will probably be much better off the central coast of Costa Rica than most other places.  We will need to see how much rain we have, how clean the water can stay, and what mood the fish are in. Whatever they decide, we are ready.
One thing about the "Green Season" is that it is often cloudy with rain in the late afternoon. The cloud cover sure makes hanging in the cockpit all day a lot more pleasant.
Experience always counts, but when the fishing is changing day to day like at this time of year, experience counts even more. There are many competent and experienced captains and crews available in the area, but not everyone can be described this way. Take a good long look at the boat. In person if possible, and on the web if not. You can tell a lot by the condition of the boat and equipment. Good crews take good care of their boats and equipment as well as their guests.
This time of year, there is less pressure on the fishing fleet, meaning that there is more boat availability for short notice trips. You might be surprised that the boat you could not book for January/March is available tomorrow morning. There is also less pressure on the restaurants, accommodations and transportation. Sometimes the prices are even a little lower this time of year.
It is also true that times are changing, and Costa Rica is becoming a year round destination for fishing, and there are solid reasons for that.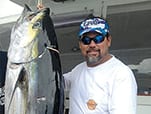 Captain Daniel Espinosa has been fishing these waters for almost 30 years, starting at the age of 14. Born in Quepos, Daniel first fished as a Captain at age 17, and has not finished yet.  Currently General Manager of Maverick Sportfishing Yachts, Daniel is owner of the Spanish Fly which he ran full time for 12 years, releasing a documented count of over 10,000 bill fish releases. His lifetime total exceeds  22,000.  A pioneer in sportfishing in Costa Rica, Daniel has captained tournament winning boats in several Central American countries. His wins include the Los Suenos series and the WBS World Championship. He lives with his wife and family in the Los Suenos area.