By Captain Daniel Espinosa • Maverick Sport Fishing
Well, it's that time of year. again. The "High Season" is past, and for me, it is the best time of year.  It starts with great mixed fishing over the next couple of months, where the daily catch can include not only sail fish and marlin, but a mix of mahi, tuna and bottom fish also.
The crowds are down, and there are usually quality boats available for charter on a short notice basis. During the December/March time, boat availability is very limited. For instance, we are already about 50% booked for the 2019 "Season".  Many, many people really do book a year ahead. It is very possible to catch marlin, sailfish, mahi and tuna on a single trip. Of course, it does not happen every day, but it is more than a mere possibility, and in fact happens frequently here.
The big news is the start of the off shore "Marlin" season.  The local seamounts yield blue marlin in quantities not seen anywhere in the world. Double digit catches of marlin, typically running between 250 and 450 lbs, are the rule rather than the exception. Releasing a "Grand Slam" is a very real possibility. On a recent trip we released 24 blue marlin and a sail fish in 17 hours of fishing. That included a triple hookup of blue marlin. A first in my 35 years of billfishing in Costa Rica involving over 20,000 released billfish. We did a triple on stripe marlin in a tournament a few years ago, but a triple with blue marlin is another world!
These seamounts are 80 to 150 miles off shore. Seamounts are underwater mountains formed by volcanoes long ago. They usually have steep sides which rise several thousand feet from the bottom of the ocean. This shape causes the natural food in the ocean to rise to the surface, which attracts small bait fish, and then the larger ones. They work similar to the drop offs and canyons found in many places around the world. It is where these underwater mountains have tops within a couple of thousand feet of the surface that it gets interesting for fishermen.
Most of these trips are over-night. These are serious fishing trips and you need to be careful to pick a boat that will provide a great experience coupled with the best possible safety program. Be wary of discount boats which might lack major safety equipment or a complete set of marine electronics. The ability to communicate from offshore is critical.
The months of June through September are the best choice. Several charter providers out of Los Suenos are very experienced in providing this unique fishing opportunity. All of this at a great resort where the whole family can relax and enjoy our wonderful country and people. Be sure to visit our new Maverick Sport Fishing Center at the charter dock in Los Suenos.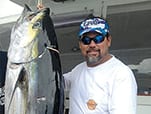 Captain Daniel Espinosa has been fishing these waters for almost 30 years, starting at the age of 14. Born in Quepos, Daniel first fished as a Captain at age 17, and has not finished yet.  Currently General Manager of Maverick Sportfishing Yachts, Daniel is owner of the Spanish Fly which he ran full time for 12 years, releasing a documented count of over 10,000 bill fish releases. His lifetime total exceeds  22,000.  A pioneer in sportfishing in Costa Rica, Daniel has captained tournament winning boats in several Central American countries. His wins include the Los Suenos series and the WBS World Championship. He lives with his wife and family in the Los Suenos area.