By Captain Daniel Espinosa • Maverick Sport Fishing
Costa Rica may not have the same sharp contrasts between the seasons for weather, but with the New Year changes are happening in the fishing scene.
Mahi are showing up in numbers this year.  It has been a while.  Boats out of Los Suenos are reporting multi fish mahi counts on a regular basis.  Some yellowfin tuna continue to populate local waters as well.
All well and good, but the big news are the marlin. Costa Rica has become known as the top blue marlin fishery anywhere right now, mostly due to the incredible action on the local sea mounts. The news is that marlin are much closer in now.
Several Grand Slams of three different bill fish species on one day have been reported in the weeks surrounding New Year's. The 50' Maverick, Open Fly, reported two Grand Slams in two days including one involving three species of marlin. Not many of those world-wide in any year.
Lots of boats, big and small, are reporting multi marlin days out of Los Suenos on day trips. Double digit blue marlin continue to be reported from the sea mounts.
Sailfish are showing up in increasing numbers with several boats going double digits recently.
Seas are calm to dead flat many days, and the heavy rains are mostly gone now.  Great fishing, great food and accommodations, with lots for non-fishing people to do while warming the pan for a big mahi feast.
Fish Los Suenos, we do.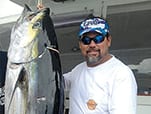 Captain Daniel Espinosa has been fishing these waters for almost 30 years, starting at the age of 14. Born in Quepos, Daniel first fished as a Captain at age 17, and has not finished yet.  Currently General Manager of Maverick Sportfishing Yachts, Daniel is owner of the Spanish Fly which he ran full time for 12 years, releasing a documented count of over 10,000 bill fish releases. His lifetime total exceeds  22,000.  A pioneer in sportfishing in Costa Rica, Daniel has captained tournament winning boats in several Central American countries. His wins include the Los Suenos series and the WBS World Championship. He lives with his wife and family in the Los Suenos area.