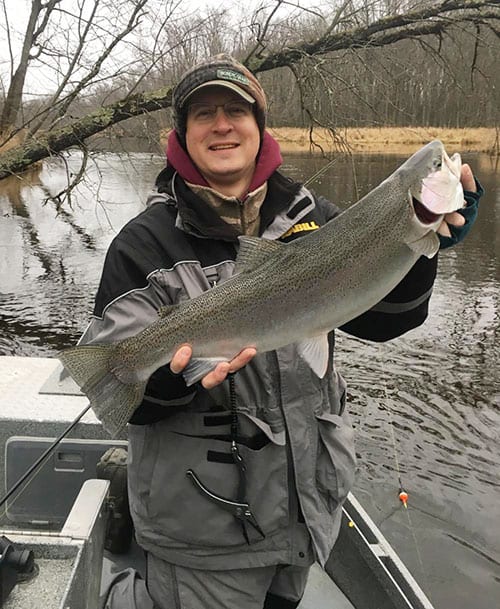 By: Capt. Sean McDonald
The first part of April small boats are the norm in Ludington trolling body baits near the piers in search of brown trout. March has shown us that it should be a decent year for browns some nice catches were made along with a few coho. Pier anglers also have a good window of opportunity with brown trout and steelhead present in the warming river water. In mid-April when most of the marinas open larger boats will begin their fishing seasons.
Kings will begin to show up when the surface temperature is about 47 degrees. This is normally to our south in late April near Little Sable Point and larger boats may decide to make a long run in search of kings. If you find spring kings they are normally caught at different depths on spoons. As the water warms up good numbers of lake trout will be found from around 40 to 60 feet of water. For lakers bouncing bottom with downriggers and running divers on or near the bottom with dogers, spin doctors and whirly gigs or peanuts will be the standard.
Cowbells are another often overlooked lake trout producer. Many charters in the Ludington area will target lake trout unless we have good numbers of kings to play with. We had a good hatch of alewives in our area last year and we hope it continues to keep our salmon fishery going. Look for alewives spawning near river mouths when the water temperature is 55 degrees. This is a great time to catch a trophy brown or a king feasting on our precious baitfish. Good luck on in the start of our 2018 Lake Michigan season.
By: Capt. Sean McDonald
Katch Me Charters
(231) 510-2072
www.centurycircle.com