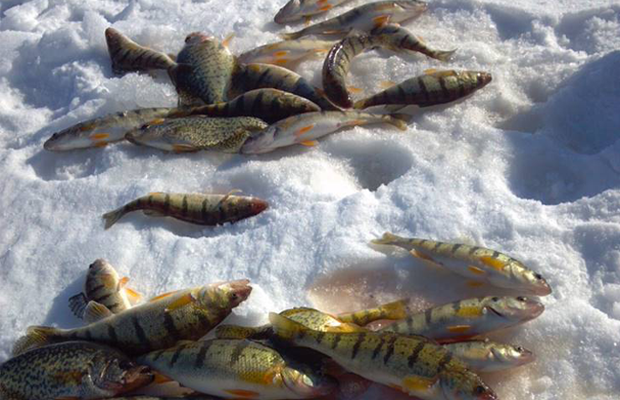 Ludington Fishing Report
We are off to a nice long season of ice fishing in the Ludington area. We have been catching some great bluegills and northern pike on our small and shallower lakes since the first week of December. Bluegill and northerns have been our best fishing to date at first and last light. This is a transition month for the smaller lakes. The amount of sunlight will diminish, and bluegills will move from the shallow dying weed areas and make a slow migration toward deeper water in February in search of higher oxygen levels.
January is normally first safe ice for many of our larger lakes in the Ludington area. Pentwater, Pere Marquette, Lower Hamlin, Manistee and Portage Lakes make up our top late freezers where we target yellow perch. The yellow perch in the larger lakes normally prefer the deepest water they can find in January. They will begin to migrate toward shallower water adjacent to their spring spawning grounds later in the winter. Mid-day is the focus time for the perch, a nice break from getting up so early for bluegill! Perch are sight oriented feeders, and you can catch them on a variety of baits. I like to jig a spoon near the bottom such as a McGathys Slab Grabber or a Gapen Flicker. I do not use bait on either of the spoons- just the red bead that comes on the slab grabber or a red or orange rubber salmon egg on the Flicker. If you want you can tip one of the trebles on the Flicker with a waxworm or two, but it is not needed. On my other two rods, I use minnows on tip downs so I can watch them out in front of me. I prefer the larger walleye minnows (Blues) during January. They seem to sort the fish at the hook and keep the smaller ones away.
Each year our perch fishing seems to be improving. It is time to get out and catch some of the best eating fish our state has to offer.
[easy-social-share]