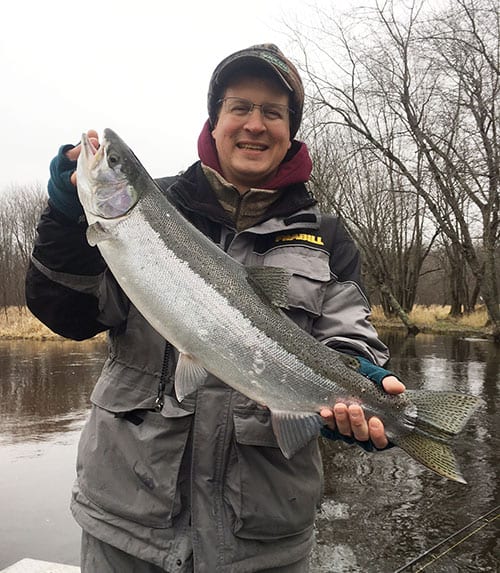 By Capt. Sean McDonald
November is a wonderful time of the year to be on the rivers. General angler traffic is down due to the salmon run is over for another year. Any fishermen out this time of the year is generally a pretty serious one or a non-hunter. The anglers know about the best migratory fish this state has to offer and the best season to fish for them. The leaves are down, and the woods are bare, and the steelhead are actively feeding. During the first half of November steelhead are pretty easy to catch on any type of salmon egg- beads, spawn, or egg flies work very well. The main reason is that the water temperature is warm (above 40), The second half of the month we normally have colder air and water temperatures and the aggressiveness and eagerness of the steelhead slow down.
Keeping this in mind you will have to work a hole or run more thorough, slowing down since a good percentage of the fish may have been caught before and their metabolisms are also slower. Plugs, swung flies and spinners will also trigger strikes throughout the month but tend to work better when most of the salmon eggs have washed away the second half of November. Look for periods of higher water for new fish that will enter into the river system. Rain brings them in, low clear water makes them drop back to PM Lake or Lake Michigan.
A steelhead can enter and go back out of a river system 6 or more times during the winter. They come in, and if they do not find food, they tend to go back out. I feel that the steelhead that make it upstream past Walhalla tend to spend the winter in the river and then spawn in the spring when the water reaches 41 degrees and then return to the lake. The fish that make it upstream of Walhalla tend to still feed on king eggs longer (that is where most kings have spawned in the gravel sections) and find enough nymphs to keep them going all winter. Good luck in November and enjoy fall steelhead before the snow sets in.
Capt. Sean McDonald
Katch Me Charters
(231) 510-2072
www.centurycircle.com