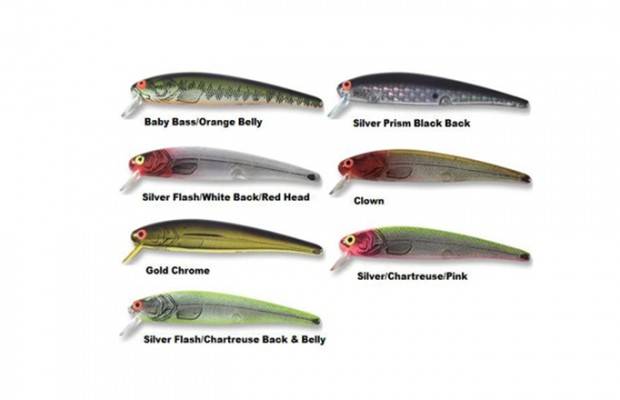 Whatever you want to call them, jerk baits, stick baits, rip baits, twitch baits or by any other name, Bomber Long A lures produce fish. The Bomber Long A is a slender minnow shaped jerkbait that produces a tight wiggle action that can be fished in many different ways and can be used to target many different species including freshwater and saltwater.
For shallow water bass applications, the 15A has a weight of ½ oz so it will provide excellent casting range. As you retrieve the bait, inducing a twitch-twitch-pause sequence will create an injured bait fish profile to the bass below triggering that instinctive strike. With a running depth of 3-feet, you'll be able to skim across the top of deep grasses and submerged obstructions. Stopping or pausing the retrieve will enable the lure to float back up to the surface to give you the ability to clear thicker grass patches. This shallow running lure is a great choice around sharp deep vegetation edges and trails cut through the cattails and bulrush walls of Lake Okeechobee and similar Florida lakes.
If you are fishing the deeper areas of Lake Okeechobee or the deeper lakes of Highlands and Polk counties, selecting the Suspended Pro A Series will enable you to obtain a running depth of 6-feet while cranking. The Deep Long A series will yield a running depth of 10-12 ft while cranking and 20-25-ft while trolling. By adjusting your trolling speed and line pay-out you can fine tune your running depth.
For those of you that fish for Bass, Snook, and Tarpon, the Bomber Long A Series is a great cross-over lure that all three species will aggressively pursue. If you happen to fish at one of the spillways on the Caloosahatchee River, by using a Bomber Long A lure you could easily catch a Bass on one cast and a Snook on the next. For the more serious saltwater fishermen, the Bomber Long A Series is available in a heavy-duty saltwater version with a 6-inch length and beefed up 1/0 saltwater-grade hooks for those monster Snook and Tarpon. This series can withstand the vigor of the saltwater environment as well as the strong currents found under the spillways. Bigger baits yield bigger fish.
The Bomber Long A Series has over 40 colors to choose from so it is easy to find the right color to match the water conditions and bait fish you're trying to emulate. For someone who crosses over from freshwater to saltwater frequently, you'll find silver-chartreuse, red head-silver, and red head-chartreuse back-silver sides three dependable colors. It's Snook season, what is in your tackle box?