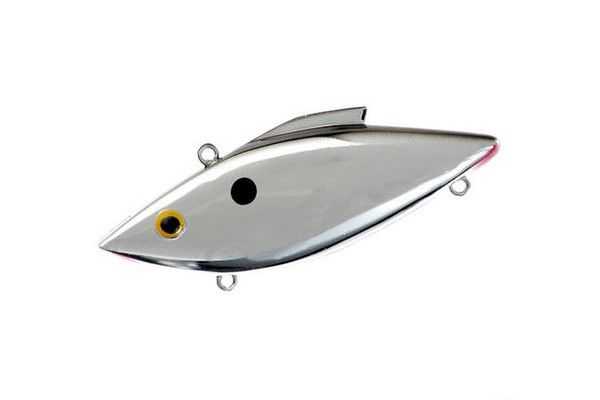 Our selection this month is a tried and true lipless crank bait that has revolutionized the fishing industry, the Rat-L-Trap. From humble beginnings this lure has become one of the most popular and effective artificial lures through-out the world.
First some history. William 'Bill' Lewis was the inventor of the original Rat-L-Trap. Born in Laurel Mississippi in 1921, Bill began tinkering with homemade baits after a distinguished military career as a WWII B-24 bomber pilot and as a commercial artist in Chicago and Dallas. From his kitchen in Jackson Mississippi, Bill would design and build a variety of spinnerbaits and soft plastics and sell them to local bait shops and fishermen. In the mid 60's he came up with the ideal of creating a sound chamber within the body of a plastic lure that emitted acoustical vibrations that produced a reactionary strike from fish. In the early days, Bill would deliver his custom lures to the local fishermen using a well-seasoned Ford station wagon which he affectionately called the "rattletrap" and from there his new lure took on the name Rat-L-Trap. Today, still true to its roots, Rat-L-Trap lures are still 100% Made in America and hand assembled and painted in Alexandria, Louisiana.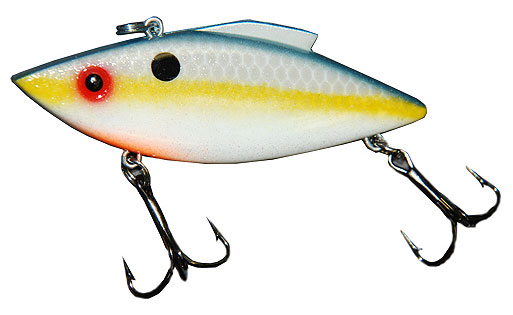 A Rat-L-Trap has two chambers inside the plastic body. The front chamber has weighted beads to provide casting control and ballast to sink, while the second chamber holds the beads that create the sonic vibrations. The lures come in freshwater and saltwater versions and there is an expansive line of colors and sizes. Typically for bass fishing the weights are 1⁄4 oz., 1⁄2 oz., and 3⁄4 oz.
The Rat-L-Trap is typically used as a search bait with the ability to cover vast amounts of water and a variety of depths. Fishing shallow waters is achieved by using a fast retrieve, while deep water can be covered with a slow retrieve. Whether working shallow or deep, a start-stop, a fast-then-slow, or a YoYo style of retrieve allows the bait to fall within the water column which produces that reactionary strike. On Lake Okeechobee, Lake Istokpoga, and most of our local lakes, the Rat-L-Trap is a great lure to crawl across the winter grass beds or deeper staging areas just on the outside edges of the vegetation.
As for which color combinations work best in our area, the best recommendation would be to match the hatch and to choose colors according to water clarity. Use bright colors such as chrome, white, pearl, and chartreuse for clear and shallow waters and dark colors such as red, orange, blue for dirty or deeper waters.
Rat-L-Traps can be found at just about every bait & tackle shop, Walmart, online retail outlets, and even at some local bargain outlets. So there is no excuse not to have a few of these great search baits in your tackle box.