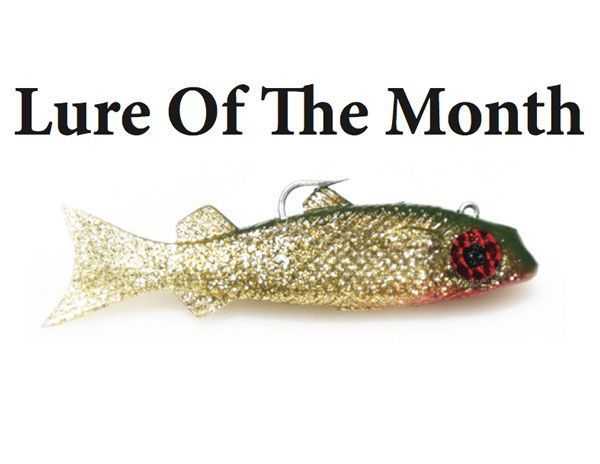 Tarpon season is finally here, so I decided to share with you a very effective tarpon lure, the Swimming Mullet from D.O.A. Lures. This bait can be trolled, vertically jigged or simply cast out and cranked back. The Swimming Mullet is quickly becoming one of the most popular artificial baits in southwest Florida among anglers that like catching really big fish. Fished inshore this bait will catch snook, tarpon, redfish, gator trout, jacks and anything else that feeds on mullet. Offshore the Swimming Mullet can be fished for cobia, grouper and more. If for any reason you are doubting just how effective the Swimming Mullet is, take 2 minutes out of your busy schedule and type in "DOA Swimming Mullet" on YOUTUBE. Check out Blair Wiggins catching some of the biggest snook and tarpon you have ever seen and he is fishing right in our backyard.
As with other lures, tie the Swimming Mullet to the leader with a loop knot. The loop connection allows much more freedom of movement and generates greater life-like action in any lure. I recommend using at least twenty pound Power Pro along with a forty pound or higher leader when fishing this bait. The heavier line will come in handy not just because the lure weighs an ounce and a quarter, but more importantly to handle the kind of fish that are going to eat it.
The Swimming Mullet is effective in shallow water and with its single upright hook and hook eye at the front of the lure, it can run snag free in foot-deep water. The lures holographic eyes and soft plastic body combined with an extremely strong hook make it very lifelike and durable. If the body does get torn up during a battle you can simply slip on a spare body and keep fishing.
The real trick to working the Swimming Mullet is to fish it slow enough that you can feel the lure bouncing every couple of seconds on the bottom. This will give the appearance of an actual mullet as they regularly nose the bottom just like a redfish kicking up little clouds of sand and mud. This is the most effective and commonly used technique when fishing in shallow to medium depth water for snook, trout and redfish. Rolling tarpon in deeper water seem to like a little bit faster retrieve, but still let the bait hit bottom every now and then and I did say "a little bit faster". Don't worry if you're seeing tarpon on the surface, I promise you there are more down deep and they are usually the ones that are feeding.
The Swimming Mullet comes with a very strong and sharp hook, but if you're fishing for tarpon, it never hurts to hit it with a file a few times to make it razor sharp. The inside of a tarpon's mouth is all hard cartilage with almost zero fleshy parts for your hook to stick into. The best description I ever heard was hooking a tarpon is like dropping your hook down a 3" PVC pipe and trying to get your hook to stick. This is partly why so many tarpon mysteriously throw your hook after a jump or two. Remember you can't eat it or even lift it out of the water for a photo according to the law. So don't get upset if you lose a silver king or two before actually getting one to the boat. Your memory of the battle and hopefully a nice jump or head shake is yours to keep forever.
You can also vertically jig your bait in the Pass for tarpon or in eighty feet of water for grouper, amberjack and cobia. The design of the lure with the hook and end of the shank on top keeps the lure horizontal in its natural position even while jigging. Don't forget you can also slow troll the Swimming Mullet nearshore for gag grouper and kings or offshore for dolphin, sailfish and all the other pelagic species that patrol the deeper waters.
Make sure you stop by Captain Ted's Tackle before you go out chasing giant tarpon. I will set you up with the right gear, lures and information to make sure you're ready for tarpon or any other fish species you want to go after.