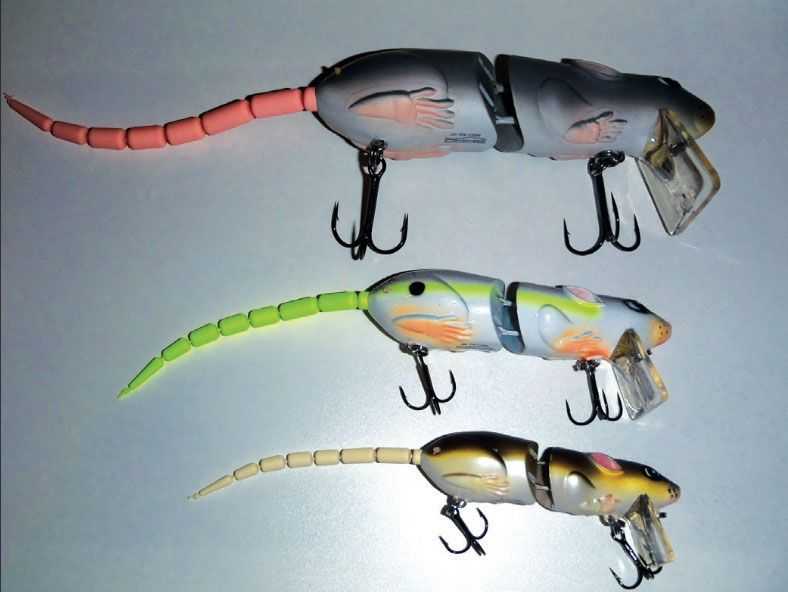 Every bass angler searches for an edge, especially on lakes like Okeechobee where fishing pressure can be extensive. Whether a faster boat, lighter stronger line, reels with power and speed, or that special go-to lure, finding that edge can be the difference between placing in the money or going home empty handed. The SPRO BBZ-1 Rat may just be that edge.
SPRO (Sports Professionals) introduced the first BBZ-1-50 Rat in 2014 and won the prestigious for hard lures. The BBZ-1 is a hard plastic lure with an injected foam core which allows the lure to float, improves its durability, and gives it a performance similar to wood lures. The lure has a single-jointed profile, a large durable square bill, a single rattle inside for a deep thumping sound, Gamakatsu treble hooks, and finished off with a replaceable articulated rat-tail that adds to its realistic rat appearance.
At ICAST 2015, SPRO introduced two new smaller sizes, the BBZ-1-40 and the BBZ-1-30. The BBZ-1-50 has a 5.25-inch body with a 5-inch tail, the BBZ-1-40 has a 4.5-inch body and tail, while the BBZ-1-30 has a 3.5-inch body and tail. All are available in five different coloring schemes.
The rat can be fished in several different ways, including popping, walking-the-dog, or as a wake bait. Unlike other baits where bass can bite timidly, with the BBZ-1 you'll find the bass attacking and crushing the lure producing fantastic point-of-contact moments.
Though presently not readily available at local bait and tackle shops, they are available online through outlets such as Tackle Warehouse, Cabelas, and Pro Bass Shops.
So as the Dog Days of Summer arrive, give Mr. Bass a wake-up call with a nice fat BBZ-1 rat and you'll end up reserving a special spot in your tackle box for this lure.