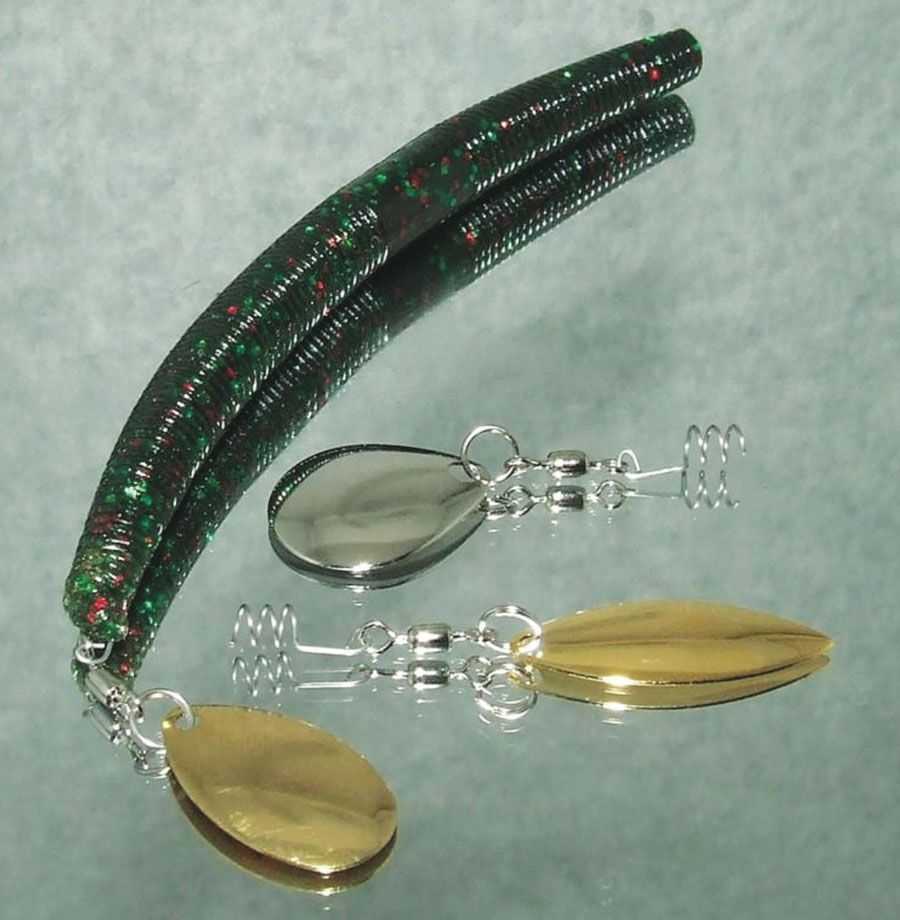 We've all been there before, we're getting dressed for a night out on the town and you sense something is missing so you put on something extra, you put on some 'bling'. So why not dress up that plastic worm of yours by adding a small spinner blade to the tail.
Various manufacturers now produce tail spinners or worm blades as they are sometimes referred to and essentially they are all the same, a small blade attached to a corkscrew type wire with a small barrel swivel. The corkscrew wire is threaded into the tail of the plastic worm and it creates a completely new profile with a variety of actions. Worm Blades are available in different sizes, shapes and colors though the most common are Colorado, Indiana, and Willow-leaf blades in gold and nickel colors. A package a five might set you back four bucks so they're pretty cheap.
What they will do for you is to wake up that lazy or fussy bass by adding a little flash and vibration to your presentation. Whether rigged Texas style, with a weighed swimbait hook, or just with an offset worm hook, you can present the rig in many different ways. You can retrieve the bait like a regular worm allowing the blade to flutter down as the bait falls to the bottom, you can slow steady retrieve it like a spinner bait with an occasional pause for a change in profile, or any combination in between. Rigged with the hook dipped into the plastic bait makes this a near weedless spinner bait and is great for catching bass in grass beds and weedlines.
When conditions are bright or the water clear, silver will generally produce better while gold is more productive in dirty water or cloudy skies.
Being that plastic worms and swim baits are an essential element in every bass fishermen's tackle box, why not increase your options by adding a little bling to your presentation.