Beech Mountain, N.C. is a prime destination for outdoor adventure all year long. Our cool summer and fall seasons offer biking, hiking, fishing, birding, and various events and programs for the whole family to enjoy. And you won't want to miss the Beech Mountain Brewery, or 5506' Skybar and great dining options. That covers a lot, but it is still only part of the story.
Beech Mountain hosts a variety of festivals and events all year long. We kick-off the fun on June 3rd with The Annual Kiddo Fishing Derby. For ages 12 and under, this FREE family favorite offers our little ones the opportunity to cast their line and go after the biggest catch. Every Friday evening from June to mid-August, the Brick Oven Pizzeria is the venue for Family Fun Night, featuring free live music, a bounce house, games and outdoor movies.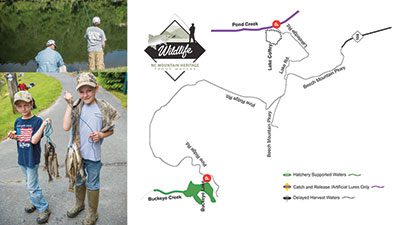 July follows with a bang! Fireworks will be set off from the top of the slopes at The Beech Mountain Resort and ignite the evening sky on Saturday July 1st. The Independence Day weekend celebration at the Resort will feature, games, live music, food and other fun activities.
But the Beech Mountain Resort is not the only game in town, on that same Saturday the 52nd Annual Roast Hog will be back, offering the best darn BBQ in the High-Country. And earlier in the day, the Buckeye Recreation Center will hold a Sparkler 5K Run. Every July 4th weekend, this unique destination provides experiences you won't find anywhere else.
On weekends throughout summer, you can enjoy free live music at various venues like, The Mile High Tavern, Brick Oven Pizzeria, 5506' Skybar and Fred's Gazebo. Plus, this year the Beech Mountain Resort has added more dates to their extremely popular Summer Concerts Series. Check out beechmountainresort.com for schedules and ticket pricing.

If all this music isn't enough for you, there is also an iconic craft festival on the mountain on Saturday, August 5th. The grassy area beside Fred's General Mercantile is the site for the annual Crafts on the Green, which features over fifty vendors. This event also features music and food, and there is always something new to discover.
Before summer ends and we usher in the spectacular color that fall brings, it's time for the Mile High Kite Festival on Labor Day weekend, kicking off a September to remember. The last three weekends in September, bring wonder and joy to families from near and far during the Autumn at Oz Festival.
Other activities this summer include a downhill mountain biking, high-altitude disc golf, hiking, Mile High Yoga, and of course, scenic lift rides and spectacular views.
More information can be found at beechmtn.com or by calling the Beech Mountain Visitor Center at 828-387-9283.