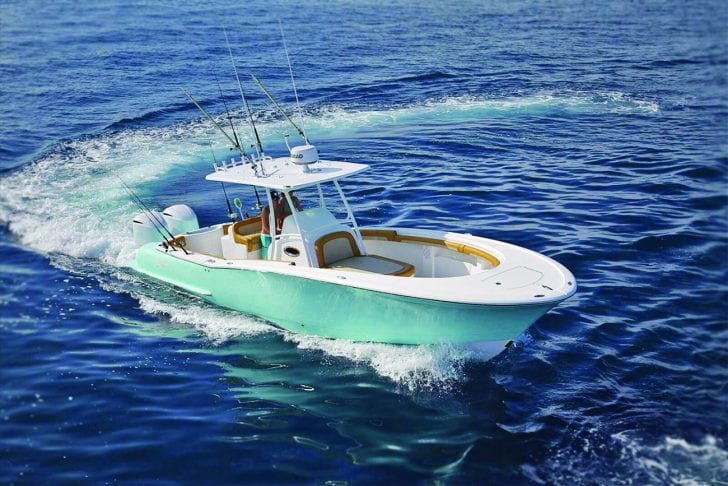 Barrett Howarth, of Mag Bay Yachts, may be the only boatbuilder in the industry who can say one of his employees has changed his diapers.
His parents, Mike and Patricia Howarth, have always been boatbuilders. Along with their partner Henry Mohrschladt, they created the venerable Cabo Yachts. Barrett grew up on the production floor. His childhood was spent in the shop, learning to build boats from the best in the business.
Barrett was conflicted when Cabo was sold to Brunswick Corporation in 2006.
"It was pretty tough on me and my dad," he said, "because that's what we did… build boats."
Through the heart of the Great Recession, when there weren't many buyers for high-end yachts, Barrett worked in his garage, building and refurbishing smaller boats. Despite protest from his father, who knew how tough the business could be, Barrett continued pursuing his passion.
"At some point, I guess Dad decided, 'If you can't beat 'em, join 'em,'" Barrett said.
In June of 2014, Barrett and Mike set out to build what became the first Mag Bay Yacht. Working with hull designs by Michael Peters, one of the most respected designers in the industry, they started work to produce a high-quality 33' center console that is the embodiment of elegance and function. It took almost a year to get everything the way they wanted it before the first Mag Bay hit the water in 2015.
Since then, a lot of travel, hard work, attention to detail and customer support have brought recognition to Mag Bay Yachts for what it is. The Mag Bay 33' is a high-end, expensive center console, and customers expect and receive the best.
Early success allowed Mag Bay to reassemble much of the experienced crew from Cabo, who they consider family. One of those employees changed Barrett's diapers nearly 30 years ago. They are the same employees who presented Mike with a plaque that hangs in the shop and reads:
"I will always build the very best boat—at a profit if I can, at a loss if I must—but I will always build the best."
Barrett said that's the philosophy for every Mag Bay that leaves the shop.
"We've always tried to build the highest quality boat on the water," he said. "We've always prided ourselves on using the absolute best products. If there's not anything out there that's up to par, we'll make it. Being a family boatbuilder, it's not about numbers for us. It's about building the absolute best boat."
In the near future, the family at Mag Bay Yachts has plans to go back to its Cabo roots in designing a new 42' inboard express. It'll be exciting to see what they produce.
For more information on Mag Bay Yachts, see their website at www.magbayyachts.com.