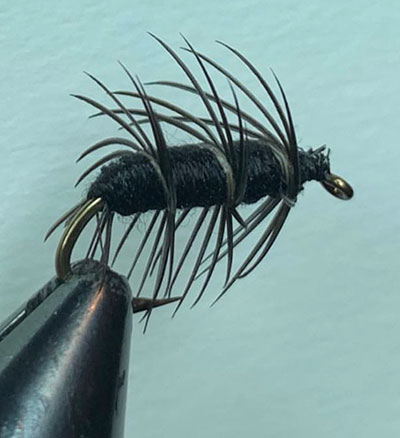 By Jim Parks
Having been blessed to grow up in a small town in the Smoky Mountains, I had opportunities to observe many wonderful people of little means. Some were "dirt poor" by today's standards but were rich in other ways including their skills taught by life's experiences. I remember hearing the phrase, "waste not, want not", particularly from the children of the Great Depression. Another oft' spoken phrase heard from those struggling mountain folk was the term "makin' do". For the outsiders, it means you likely will not get what you'd like to have, so you make the best of the circumstances with what you do have. This can be regarding a house, a job, food, clothing, or pretty much anything. Naturally, my thoughts turn to fly fishing…
Ever a product of our environment, when I first began fly fishing and tying flies, under the tutelage of the late Kirk Jenkins, any hackle used was what we had at hand. Many hunting trips saw a reward of feathers and fur, as there were very few mail order businesses of which we were aware. Remember, this was pre-internet! Thus, we had to make do.
As we enter the winter season, I'm reminded of a trip to Cataloochee in January when I was 15 or 16 years old. Possessing neither the funds nor access to cold weather fishing attire, we made do by wading the frigid waters in old pair of hunting boots and blue jeans. Being the tough, or not so wise youth that we were, we would take turns wading in the icy, knee-deep water. While one fished, the other walked and trotted back and forth on the road to get the feeling back in his legs! It timed out well as about the time the fisher lost all feeling in his legs, the walker had gotten his back!
Years later, an opportunity arose that became a funny story my wife now loves to share. When we were dating, we had driven to Big Ed's Pizza in Oak Ridge. On the return, I was driving down a major four-lane highway when I saw a dead crow that had been hit. Making a quick stop onto the shoulder, she thought I had lost my mind; the first of many such moments to come. As I was dodging oncoming traffic like a game of Frogger, I quickly grabbed the flattened remains of the dead bird and tossed it into a garbage bag stored in the trunk for such "emergencies".
Fast forward to last year. We were driving down a two-lane backroad to avoid interstate traffic as we headed to our hometown. There it was: a nice dead crow in the middle of our lane. I drove by it, never slowing down. Immediately, I sensed her giving gave me that "are you okay?" look. Without a word, I made a U-turn to get the prize.
Don't get me wrong, it's not just crows; any kind of dead bird is a possibility as well as fur bearing critters. Once, I was riding my road bicycle with some friends when I stopped for a dead yellowhammer. If you're familiar with Smoky Mountain fly-fishing, you know the historical significance of this woodpecker. Emptying out a small plastic bag, I took what was left of the best feathers, placed them in the bag, which I slid into a back pocket in my cycling jersey, and continued on my way.
"That is the weirdest thing I've ever seen," commented one of my friends. They received a lesson in opportunity!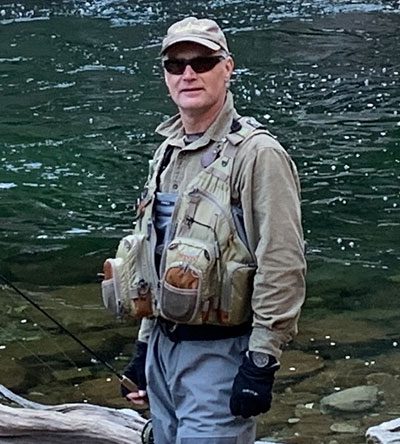 To this day, I'm still on the lookout for items that I use to catch trout on that rarely can be found in stores or online. One of my favorites was a Pomeranian we had named Taz. Taz would sit and watch me tie flies from the doorway into my tying room. He was trained to not approach any closer as there might be a wayward hook misplaced on the floor. One day, I saw some loose twigs of hair on the back of his ears. Hmmm… Hence, the Taz fly was invented and what a fly it was! Sadly, Taz passed in 2005 and I lost my supply and friend. If you've read my book, "Tails of the Smokies", you know about the Roscoe Fly. Now you know its origin.
Still, there's no limit to the possibilities. Just last night, I was at Home Depot when I stepped out of the car and saw an old hairbrush. I've been looking for a nice replacement for Chinese Boar Hair, which I use for the antennae on my fly, Jim's Grampus. Invented in 1985, it is the most successful fly I've used for catching large trout in the Smokies, local tailwaters, and Montana. I picked up the old hairbrush to study the bristles while my wife gave me the "are you ok?" look. Sadly, the bristles didn't provide what I needed.
For now, I'll just continue "Makin' Do".
Jim Parks, a native of Newport, Tennessee, has spent forty-five years fly-fishing in the Great Smoky Mountains National Park, which he considers his home waters. For autographed copies of his book "Tails of the Smokies" contact him on Instagram at TailsOfTheSmokies. Jim currently resides in Kodak, Tennessee, with Trena, his wife and best friend of thirty-five years.