It's summertime, and that means mako sharks on the fly in southern California! If you ever get a chance to try it, mako sharks are the premier summertime gamefish off our coast, and being able to sight fish a fly to them is an experience like no other in fly fishing.Here are some suggestions on tackle and flies to get you into the Mako fishing game.
Rods
The fly rod used when mako fishing is more a fish fighting tool rather than a casting tool. Fly rods in the 12- to 15-weight range are what I recommend. These rods easily cast a large fly and have enough lifting power to fight a mako shark from deep water. For larger makos, I use one-piece custom rods that are 7 ½ feet to 8 feet in length and can cast a fly to 30 feet quickly and accurately. They are great fish-fighting tools, especially for makos in to 200- to 400-pound range.
Reel
The drag system must be able to apply at least 18 pounds of drag pressure at its maximum setting. Most fly reels used in the saltwater these days use designs that apply up to 20 pounds of drag pressure.  The reason you want a reel to have this amount of drag pressure is to be able to apply maximum pressure on the fish when it is swimming away from the boat and during the final moments of the fight. You want to be able to "lock down" on the mako and hold it at the boat so you can get a quick release. If the drag is too light (not enough drag pressure), you will never get the mako to the boat.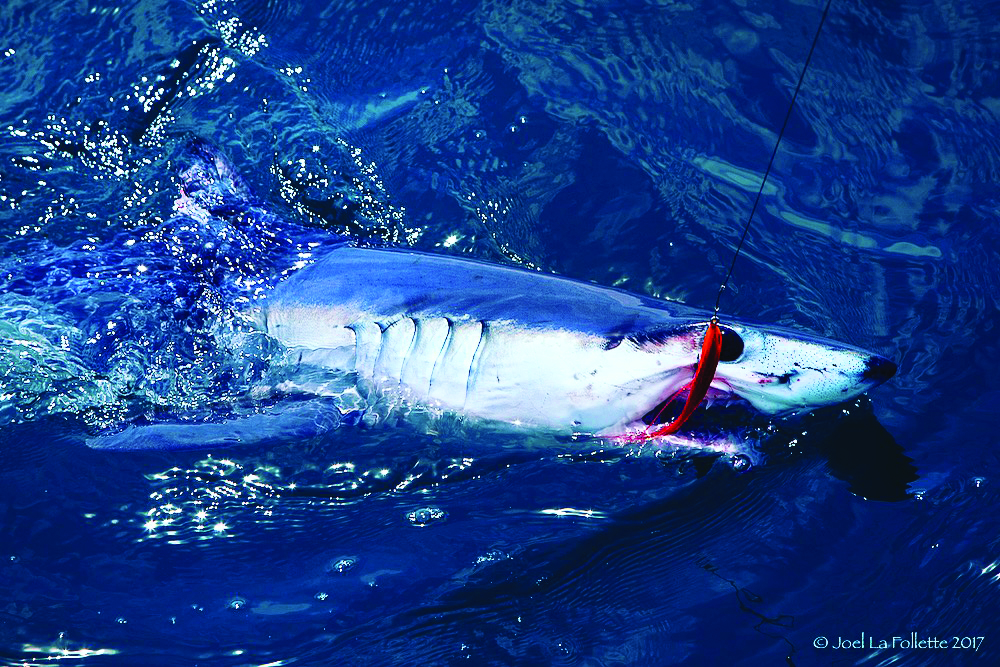 Line retrieval
The rate at which you can retrieve the fly line depends on the size of the reel's arbor. The larger the arbor, the more line you can retrieve in one revolution of the fly feel spool. I recommend using the largest arbor reel possible. Many fly reel companies make reels with large arbors specifically for big saltwater gamefish like makos, tuna and marlin.
Flies for Mako Fishing
The flies I use for mako sharks are large-profiled flies with a foam popper head. These flies are typically 8 to 12 inches long and tied on plastic tubing. I prefer tube flies because they are able to slide up and down the steel leader, saving the fly from getting eaten up by the shark. My hook size varies from 6/0 to very large 10/0.
As for fly colors, red/orange combo is what I like best. This color combo is easy to see in tough lighting conditions. However, I will have one rig with a different color fly. The reason I do this is if the mako gets turned off by the red/orange color combo, a change in fly color can get the mako to react to a different color fly.
Now go catch some Makos on the fly!!
For more Bowman go to camflyfishing.com