By: Capt. Larry Raney
Premier Angling Guide Service
(231) 510-5862
www.premieranglingguideservice.com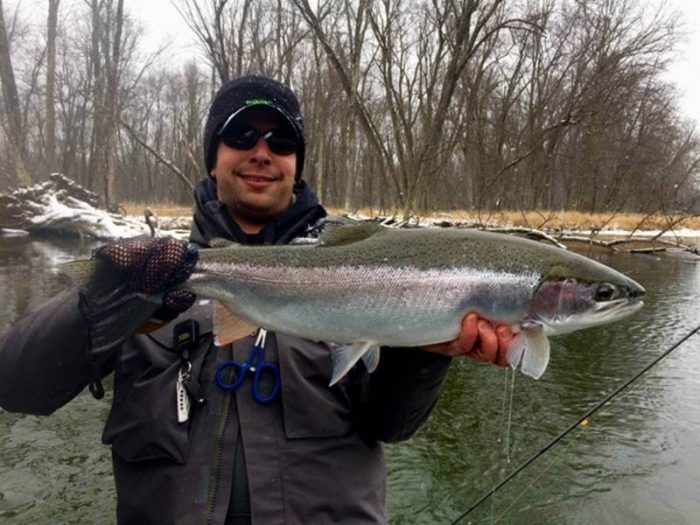 Happy New Year! May it be a blessed one full of fishing excursions. The Big Manistee is fishing well. Our steelhead numbers have been good, and they are all looking healthy. When it comes to fishing steelhead in the winter, it's all about the weather. They are there for the catch and most years in good numbers but playing the weather game to plan a day can be the hard part. Look for warming trends in the area you plan on fishing and try to plan a day the second or third day after cold snaps, give that warmer weather a day or two to settle in.
Steelhead live in different types of water in the winter months. Look for slow currents in the five-to-seven-foot range and more times than not they are going to be around some sort of structure, logs, rocks, trees, etc. Their metabolism slows down, and they tend to get a little lethargic. The structure slows the current, so they are not working so hard. There are a handful of ways to fish for winter steelhead; you can bottom bounce with spinning and fly gear but be ready to tie a bunch of knots. Some guys back troll plugs, and that can be effective also.
Running a float on fly or spinning gear or my favorite centerpin fishing is probably the most effective day in and day out. Float fishing enables you to adjust your depth so that you keep your bait over top of the structure on the bottom of the river and helps keep you in the bite zone. Fishing a float also lets you fish some of the slower currents that can't be fished bottom bouncing or back trolling. The types of bait we use under our floats range from beads, spawn, jigs and wax worms to various aquatic nymph patterns. These are all things you need to have in your arsenal to help with your success on the river.
The other thing that is key in the winter months is the time of the day. No need to get out at first light, let things warm up a bit, 10am-2pm seems to be a good time frame from my experience. If you are looking to learn or want to do something different this winter and try your hand at float fishing, give us a shout. We have enclosed, and heated jet boats so don't let the weather be a factor. Come on up and watch the floats drop. Tight lines & high fives!