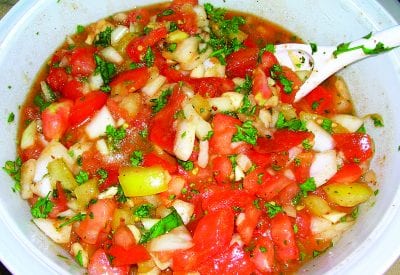 by Jim Baugh, JimBaugh.net, Jim Baugh Outdoors TV
This is my favorite topping to put on most any fish no matter how it is prepared. Weather blackened, fried, broiled, or raw, put some of this salsa on it and you will love it!
Four limes, two lemons, one sweet onion, two mango chopped, five spring onions chopped, four tomatoes diced, one poblano pepper, one yellow pepper, four cloves of garlic chopped, one cup of fresh chopped cilantro, one cup fresh chopped Italian parsley, one tablespoon of fish sauce, one teaspoon of honey, sea salt and fresh cracked pepper to taste, dash of red wine vinegar, and 1\2 cup of olive oil.
Simply mix all ingredients and chill for at least an hour. Stir well before serving. Place on top of any cooked fish also excellent with sushi!