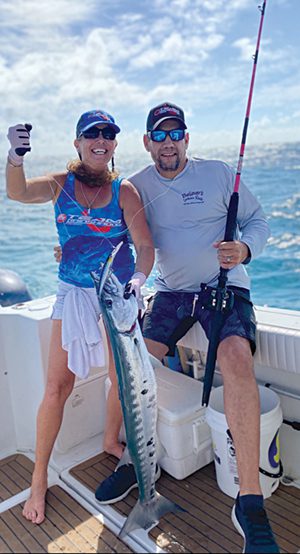 By: Capt. Angelia Swanson 
Most of us like to fish. Some of us LOVE to fish. But what is it about fishing that keeps us coming back for more day after day? Catching! Catching is ultimately why we fish! Some days you may feel like the fish are jumping in the boat, and some days you pull every trick and tool out of your fishing arsenal and disappointment takes over as you spend the day fishing without a single catch. It happens to the best of us. Yet we continue to watch the weather, tides, winds, moon phases, and any other conditions that we believe are conducive to catching and we keep on fishing.
Recently I had a day I was really looking forward to with my custom rod builder Michael, of Believer's Custom Rods, and his beautiful wife Melanie. We went offshore trolling on a day with all of the stars aligned and we were loaded for bear. Hours and hours went by without a single catch. A few hours more, we changed up our tactics several times, and still nothing. Thankfully, at the end of our day, we hooked into a couple of Barracuda and were happy to not have gotten skunked. Definitely not what we were hoping for, but catching is catching and we were grateful for the action.
The very next day I got two young boys, 9 and 11 years old, with their parents for a reef fishing trip. We anchored at one of my favorite spots on the reef and dropped a couple of chum bags. The fish swarmed the boat! The smaller bait fish were busting the water's surface the whole time. A giant sea turtle within our sight only made things more exciting. These boys never stopped fishing for 4 hours and loaded a cooler full of a wide array of snapper for their family's dinner feast that evening. Go figure!
I've been working in the fishing industry for quite a while now and I can't tell you how many times I've had people ask me "do you guarantee we will catch fish?" There are no guarantees in fishing. It's just that…..fishing. If you have an awesome day where you are actually catching it's a bonus. If you have a day where you are catching your targeted species of fish, you hit the jackpot! Everyone has had their hard days and their magical days. It teaches you to cherish the magical days, be patient, and be resilient.
So for all of you avid anglers that like to fish, I'd like to share my favorite fishing quote ever by John Buchan……"The charm of fishing is that it is the pursuit of what is elusive but attainable, a perpetual series of occasions for hope". I truly believe that this quote sums it up best.
— Come out fishing with me by contacting me at:
floridasaltycowgirl.com  |  813-610-0078