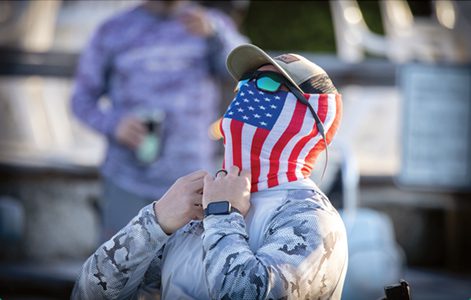 Gunshot wounds to the head, multiple traumatic brain injuries and blast injuries from Improvised Explosive Devices, and psychological and moral trauma are just some of the wounds that have accompanied combat veterans home from combat in the post-9/11 era.
These are the kind of wounds that Warriors & Quiet Waters Foundation (WQW) enables Warriors to heal from, overcome, and learn to thrive again following combat. They're also the specific wounds that a group of veterans who recently accompanied WQW to Islamorada, FL in March continue to overcome. How? Through peak experiences in nature centered around fly fishing.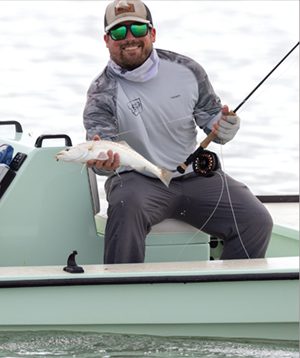 WQW was established in Bozeman, MT in 2007.  For the first time in WQW's recent history, the organization recently conducted a week-long veteran's fly fishing program outside of Montana in the Florida Keys. According to WQW's CEO, Brian Gilman, an Iraq and Afghanistan combat veteran himself, WQW recognized the opportunity to expand their veteran programming to Florida, because the Keys offer the same kind of pristine nature and tremendous fly fishing that can be found in Montana – without the snow and cold of the harsh Montana winters.
WQW uses the power of nature, fly-fishing, and other immersive outdoor activities to enable combat veterans to find peace, meaning, and purpose in their lives after military service. According to Gilman, they strive to create what he calls "peak experiences in nature" – experiences that leave veteran participants with a strong sense of awe, wonder, and gratitude. WQW combines these experiences with camaraderie and a sense of belonging between the veterans and program volunteers, along with long-term engagement to enable veterans to make meaning of their combat experiences, find respite from the effects of their wounds, and grow beyond trauma.
WQW came to Florida looking for these peak experiences in nature, and found them in abundance in the Florida Keys. WQW's staff, volunteers, and some of the best professional fly-fishing guides in the Keys spent a week fly fishing for tarpon, snook, red fish, permit, and bone fish in the waters off Islamorada. The four Warriors — who come from across the country —woke up to spectacular coastal sunrises, experienced once-in-a-lifetime fishing opportunities during each day, and returned to home-cooked meals provided by WQW's volunteers. The Warriors came to Florida filled with anticipation and left full of great memories, gratitude, and a commitment to thrive despite their wounds of war.
Warriors & Quiet Waters Foundation in a non-profit Veteran Services Organization headquartered in Bozeman, MT. Their programs are offered 100 percent cost free to their veteran participants and are fully funded by private, corporate, and foundation donors. To support their work enabling veterans to thrive, go to www.wqwf.org.