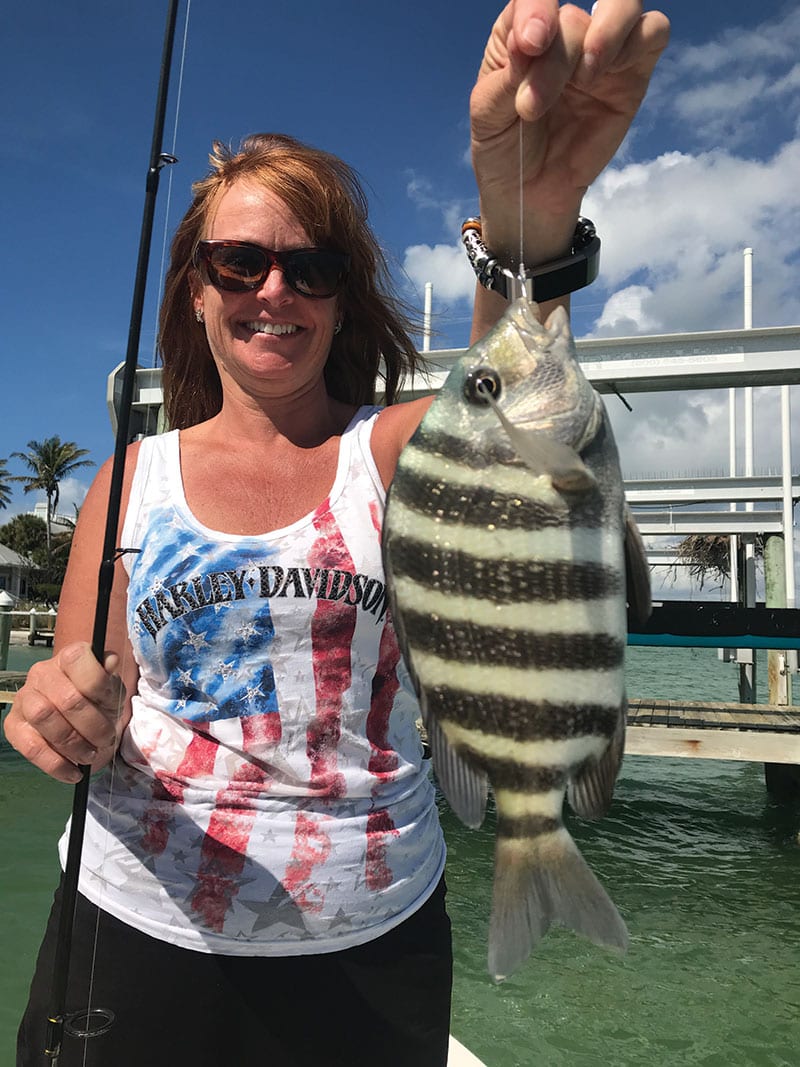 by Capt. Terry Fisher
I always look forward to March as it brings forth warmer weather, warmer water, higher tides and active fish which have been virtually dormant (other than sheepshead) throughout the winter months. It is a time similar to the way we (as humans) celebrate the coming of spring or in other words, 'Spring Fever'. Water temperatures (determined by weather patterns) dictate movement and activity of fish. Higher water tides and stronger tide movements are determined by this time of year. These factors alone will bring forth the migration and relocation of fish.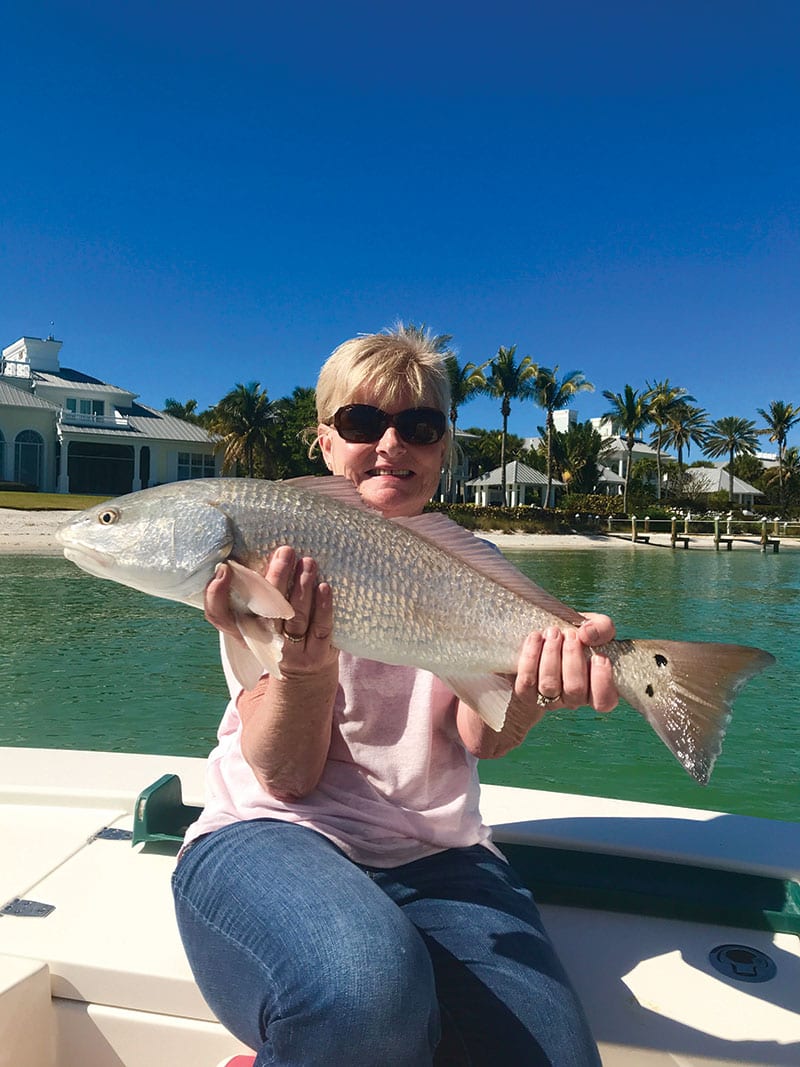 During spring, fish are no longer lethargic and become much more aggressive. Inshore; snook, redfish, large seatrout and Spanish mackerel will seem more plentiful as they move around and become more active. Offshore, Kingfish, tripletail, permit, cobia and other species will begin to appear in bigger numbers around familiar reefs and bait 'pods'. Look for diving birds. It is also possible that the tarpon migration will begin (depending on the consistent warming of the waters up to and around 68° Fahrenheit). Sharks: hammerhead, tiger, bull and others will be in 'hot' pursuit of the tarpon. During the early stages of the tarpon migration, I suggest fishing for both tarpon and shark. Tarpon and shark will bite the same presentations and offer opportunity for more action when tarpon are scarce. Naturally, that strategy should change when the tarpon migration is in full 'bloom' (as when the Royal Poinciana trees are in full bloom).
Tarpon and shark presentations include drifting dead or alive pinfish, ladyfish, mullet, blue crab or pass crab (slightly weighted ¾ to 1oz) on the seabed or suspended live or cut under a balloon or cork behind the boat. Use a 6000 to 8000 series reel loaded with 60 lb. test main line. Use a 30-40lb. butt-strength rated, 8ft. rod. Attach a 60 to 125lb. leader (the length of the fish you are likely to catch) with a 6/0-8/0 circle-hook.
SNOOK SEASON IS OPEN! Look for them to aggressively attack all baits including, top-water 'plugs', twitch baits and soft plastics in the early morning hours on incoming and outgoing tides. My live presentations in order of preference are pilchards, threadfins, pinfish or jumbo shrimp free-lined. I use light tackle (3000-4000 series reels, 7ft. rods with butt strength ratings of 10-20lb.) Load with 10/15lb strength line, tipped with 30lb. leader and a 1/0 to 2/0 circle or bait hook. During March these fish will more likely be found in creek mouths, canals, under docks, along seawalls around jetties and up in the mangroves on higher tides. Do not look to catch snook in the grass flats, as odds are slim to none.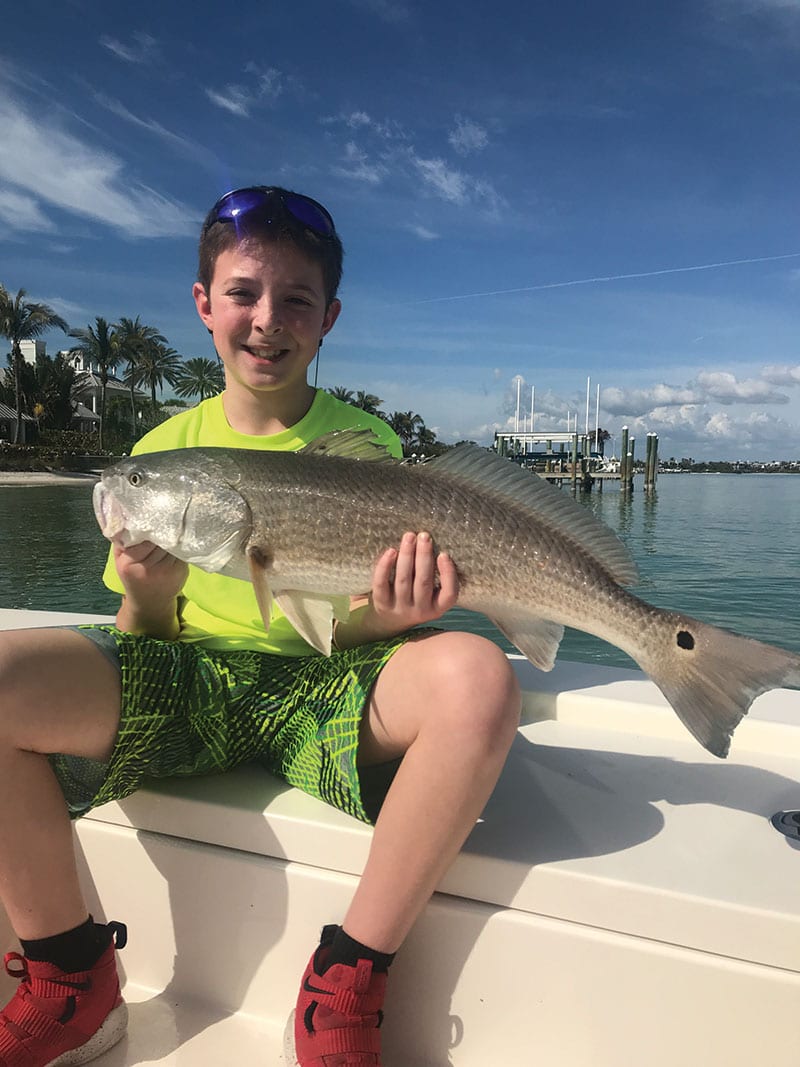 Redfish will be more prevalent to anglers as the tides are higher, allowing access to more remote areas. Look for these fish on an incoming tide under docks along the passes and in the deeper holes of the flats. Fish close to mangrove roots (islands/keys) when the tides are high enough to access them. I use the same equipment for these fish as I do snook. Always use a fluorocarbon leader when fishing for this species around oyster mounds and mangrove clusters. Otherwise, be prepared for the line to be 'cut' off on mangrove 'laden' barnacles, sharp oyster shells, rocks, dead or driftwood structures.
Seatrout, ladyfish, Jack Crevalle, Spanish mackerel, small sharks and pompano will all be found on the grass flats. The fact of the matter is that, unless fishing 'back country' locations, most recreational anglers target the seatrout on the open flats, in around 4 to 7 feet of water. Anglers targeting Spanish mackerel frequently use wire leaders with 'trailer' hooks. However, all of these species will usually be in the same locations as trout, on the open grass flats. I recommend using the same light tackle as mentioned for the snook and redfish, except that I use the lesser expensive monofilament, 30lb. leader, as it is price practical and will be sufficient to land Spanish mackerel and small estuary sharks, such as shovelhead and black tips.
Some big sheepshead may still be inshore around piles and under docks, but if late spring water temperatures move in, then look for the larger ones on the reefs in around 30 foot of water. The strategy is the same as inshore, except use a larger weight to get the shrimp down to them.
This is Captain Terry Fisher of Fish Face Charters inviting everyone that loves fishing and boating to attend the SW Florida Marine Industries Boat Show, at the Greyhound Race Track, Bonita, Springs on March 1-4. I will be doing daily fishing seminars on the species mentioned above in conjunction with Coastal Angler Magazine Publications at Fishin' Frank's Fishin' Village. Stop by the Fish Face Charters and Coastal Angler booth. We would love to meet you and answer any questions you may have.
This is Captain Terry Fisher of Fish Face Charters at www.fishfacecharters.com. Call 239-357-6829 or email [email protected] for charter reservations. I am also available as 'Captain for Hire' on your vessel (by the hour) for safety, navigational and fishing locations and techniques to insure your every fishing trip is a success.