April means one thing to many Matagorda anglers, glass minnows.  The diminutive baitfish show up in huge schools on the shorelines this month and hordes of hungry trout and redfish will be right behind them.  Keep an eye out for pelicans to point you to areas holding them and plan to fish a moving tide.  Small lures are the order of the day with the best choices being natural looking offerings.  Soft plastics in salt-n-pepper, clear with silver glitter or opening night are excellent choices.   Mirrolure MirrOminnows are good glass minnow imitations as well. When the feed is fully on they will readily eat small topwaters and don't rule out old school options like small silver spoons and split tail sparkle beetles.
Glass minnows aren't the only good option in April.  Drifting and wading shell in East Matagorda Bay has been solid this spring with impressive numbers and impressive numbers of quality fish being caught.  April is a great month to connect with a trophy trout.  Soft plastics bounced over shell continue to account for large numbers of fish this spring and improving bait supplies have provided some good catches on live shrimp under popping corks lately as well.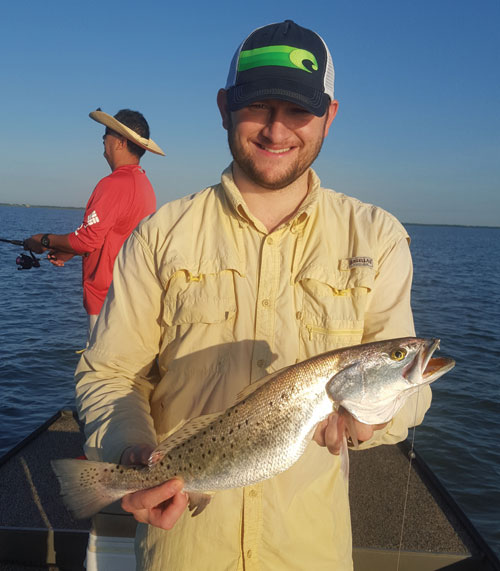 The grass beds on the south shoreline of West Matagorda Bay are starting to hold some fish and it will just get better and better through April.  Wading with soft plastics and topwaters is the best approach.
Come on and let's go fishin'!
Capt. Glenn Ging | www.glennsguideservice.com | 979-479-1460