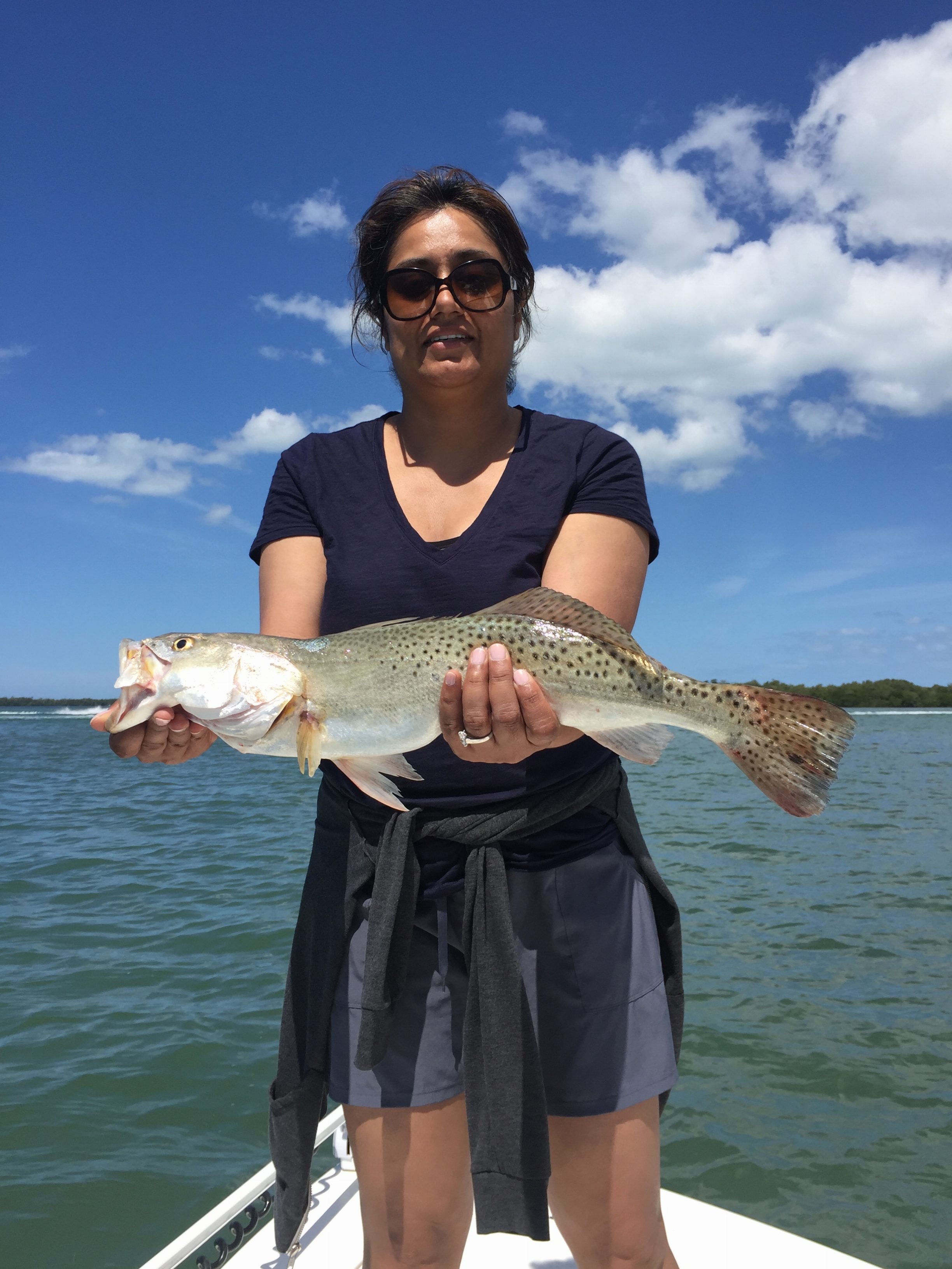 The months of May usually offer the most opportunity for anglers to pick and chose their fish of choice. May offers a variety of aggressive species that will entice and reward the most demanding and discriminating anglers with the opportunity for a 'fish of a lifetime'. It is also the month that provides the opportunity for the recreational angler a 'fish of a lifetime'. Offshore species include Permit, Cobia, Kingfish, Mackerel, Grouper, Snapper, Shark and Tarpon. Inshore opportunities abound for big Seatrout, Redfish, Snook, Spanish Mackerel and Pompano to name a few.
Bait is plentiful (which is the reason many species are migrating and inhabiting the waters). Shrimps are easy to purchase and every species eats them. Pilchards, Threadfins, Mullet, Pinfish, Blue Crab, Pass Crab and Ladyfish are plentiful and easily caught with nets or purchased. This is the month to target Tarpon. Virtually no other month of the year will offer more opportunity to land a 'Silver King' then the month of May (refer to April's article on baits, equipment and strategy's to catch these fierce, fighting fish, both inshore and offshore).
Offshore; less than 10 miles out have been productive for Permit, nice size Mangrove (Gray) Snappers, Sheepshead and Spanish Mackerel. Wind is the only variable to consider. Long distance offshore charters will produce big Red Grouper and Gag Grouper.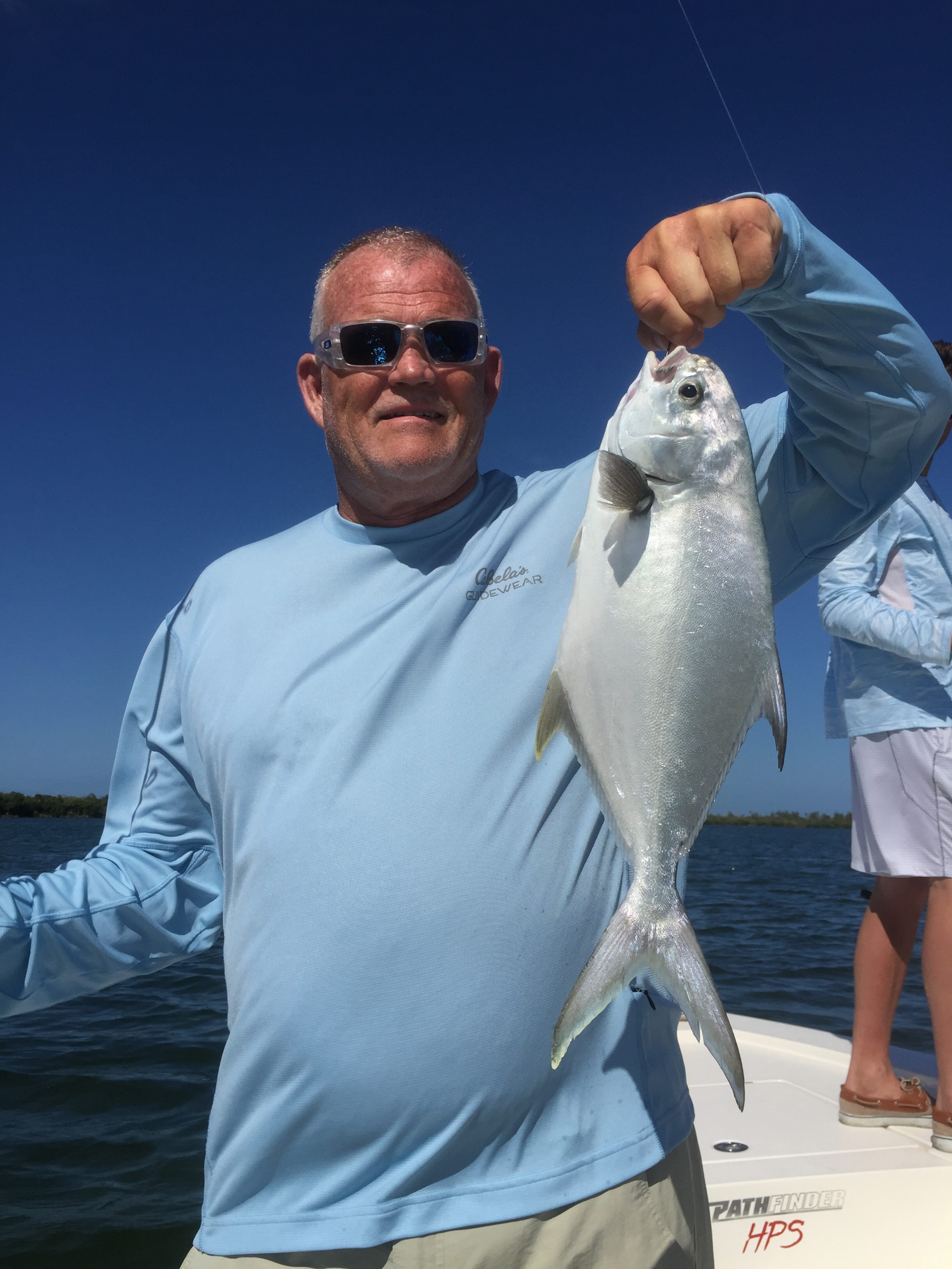 Inshore:; Snook season is open and the large ones will give the most demanding angler (or beginner) more than they bargain for. I suggest Pilchards for the Snook when available. My second bait of choice is Threadfins. The larger Snook are more prone to eat the Threadfins. Pinfish and large shrimp are great back-up presentations, especially when 'free-lined'. Artificial presentations are effective and include scented soft plastics, twitch and shallow running crank baits. Snook may be found and caught on the beaches of Ft. Myers, Sanibel, Captiva, north Captiva and in the passes (cuts). These are structure fish and they like mangroves, docks, wood, rock and concrete structures.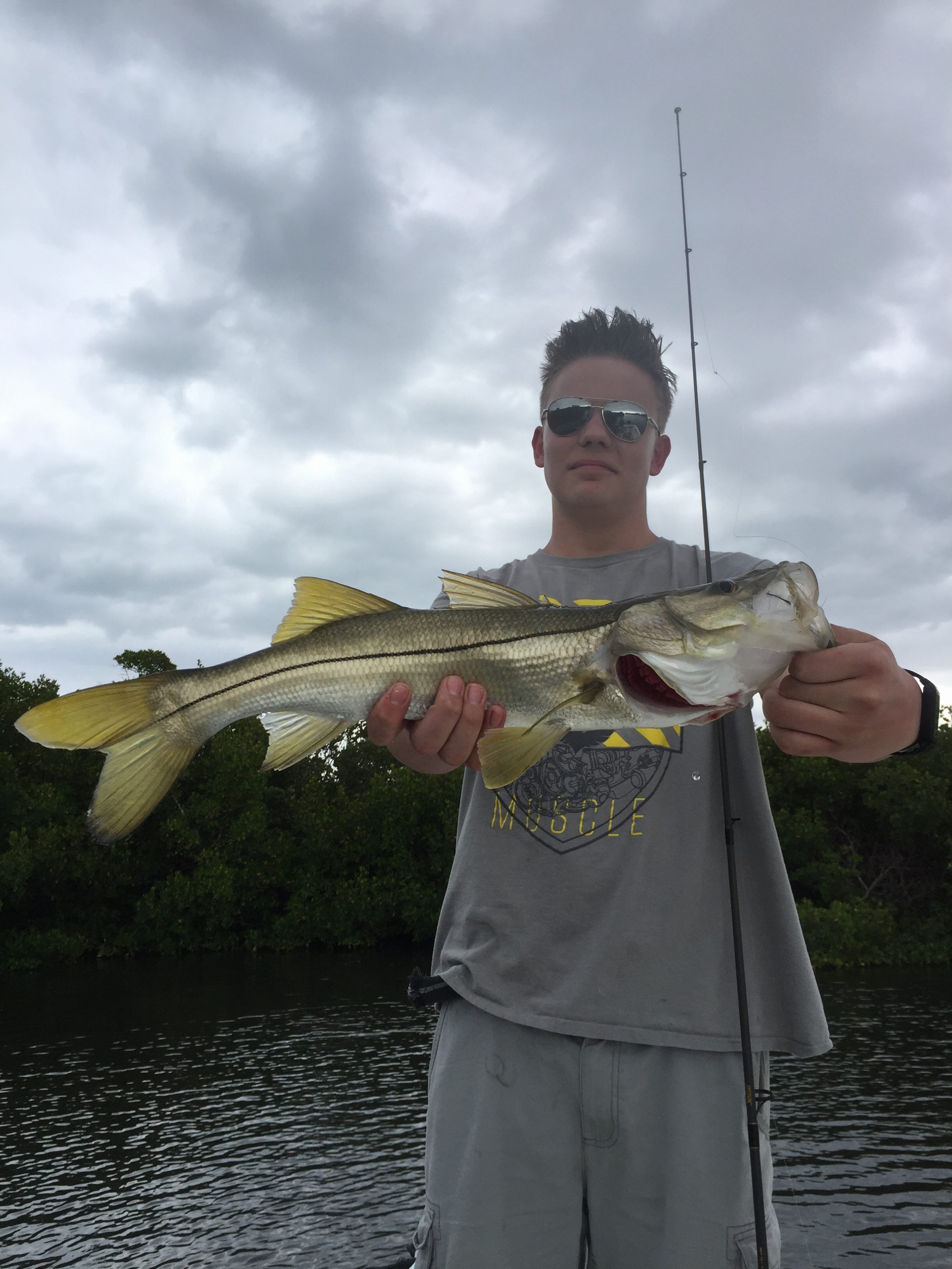 The higher tides of May offer more opportunity to access remote areas in the shallows and around Mangroves. Snook, Redfish and large Seatrout will be in these areas that support oyster beds, sand shoals, Turtle and other grasses. Redfish are easier to find and target around the mangroves on high tides. Large Shrimp, cut Pinfish, cut Ladyfish and Blue crabs round out the live/dead presentations. Lots of Redfish are here and are eager to take the bait. Remember to move from location to locations making a variety of presentations. I always utilize a popping cork with a short 30lb. Fluorocarbon leader with a light jig head to keep the hook from getting caught up on wood and oyster structures around mangrove areas. I use Fluorocarbon for three main reason
1) it is transparent,
2) it is strong,
3) it will not slip (knots).
I also will place live and cut bait presentations on the bottom of the 'seabed'. I have most success over the last couple of years using large shrimps. Second bait of choice for Redfish is, 'cut' Pinfish. Artificial presentations include the same as for Snook but ad gold 'Gator' or Johnson spoons to your arsenal!
Those looking for the opportunity to catch 'Gator' Trout should consider working shallow grass flats just off of the spoil/mangrove islands. These big fish are loners and will take big shrimps under a popping cork or off the bottom of the estuary. I have been catching big trout since March.
Recreational anglers may want to consider working the grass flats (murky, green colored water) in Pine Island Sound. May should offer lots of small trout activity with an occasional big trout, Spanish Mackerel, small shark and Pompano as 'by-catches'. The flats will offer hours of non-stop opportunity for families with children. It is simple and fun fishing. Fish water depths of 4-6ft. with light tackle. Place a 3ft. 30lb. monofilament leader under a 'popping' cork. Attach a 1/8oz. jig head to the leader and place a small shrimp on it for bait. Everything that swims will 'hit' it at sometime or the other. Most species will school. When you find them you will catch fish. Check you hook often for bait, as Seatout and other small fish will 'steal' you presentation. If no action, move 10 to 20 yards at a time, 're-anchor' (or drift) until you find the fish.
When fishing 'inshore', I suggest using 'light' tackle (7ft. rods, 3000 series reels with 10 to 15lb. test line and a 30lb. leader. This will provide a more enjoyable and comfortable experience on most inshore species. This equipment will handle most any size of fish one encounters on a day of fishing. Simply set the drag to fit the line and reel strength to prevent 'break-offs'. Any fishing retailer should be able to illustrate and explain the basics of setting a proper drag. When fishing the mangroves, tighten the drag so that the fish will not 'run'/swim under mangroves and cut the line.
This is Captain Terry Fisher of Fish Face Charters offering some insight and assistance to help anglers of all levels of experience catch more fish. Contact me at 239-357-6829 for any charter requests or questions. I will be happy to assist. Check out my website at www.fishfacecharters.com or email me at fishfacecharters@yahoo.com. Check out other fishing reports and articles at www.goboatingflorida.com. Those needing navigation assistance, fishing locations or fishing techniques, I am available by the hour as 'Captain for Hire' on your vessel.