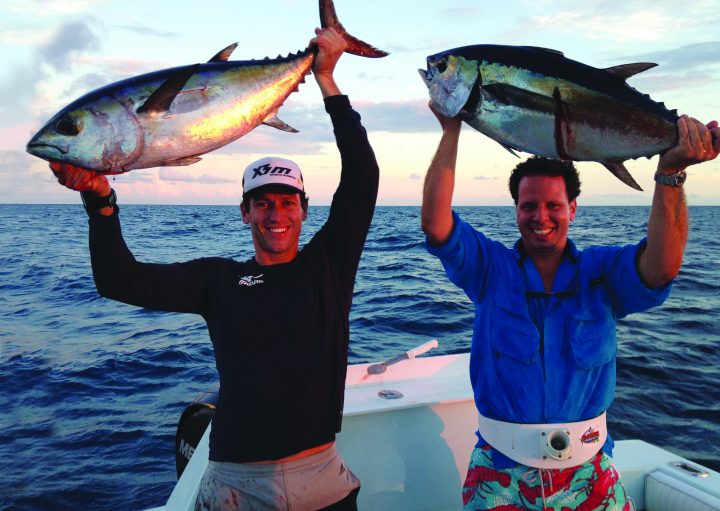 If you like screaming drags and sashimi then May is a great month. May can be great in many ways, not only will you still catch sails and trophy sized kings and mahi but blackfin tuna will make a strong showing too. Although tuna are often caught in broad daylight, most are caught late in the day when the sun begins to set slightly.  It is for this very reason that many refer to this type of fishing as "twilight tuna".
My favorite way to catch these fish is to employ the use of a fishing kite and live bait. Blackfins will eat a variety of baits ranging from goggle eyes to pilchards and herring. During the spring winds typically prevail from an easterly quadrant and it is for this reason that I usually set my spread a little deep (around 190′-200′ of water).  Since these fish eat at different depth during different times, I like to start deep and drift back into 80' or 90'.  Once I get a bite or see activity, I start to narrow my drift window concentrating my time inside the hot spot.
Since these fish usually don't travel alone, it is always a good idea to fish as many baits as you can do so effectively. Multiple hook ups aren't uncommon and the only thing more challenging than one hard charging tuna is two or three. Live chumming is another good technique that not only attract these fish to the boat but keeps them around long enough for them to find the hooked baits.  If live bait isn't available, chunking with cut sardines, or bonito can work well also.
The most common tackle for blackfins is 20 pound spinning or conventional gear.  The main line should be double by using a Bimini twist or spider hitch and then connected to a 30 to 50 leader at least 6′ long. I personally fish 50 pound mono leader with a trace of #4 single strand wire tied to a 5/0 or 6/0 light wire circle hook.  A finicky tuna will normally prefer the lighter leader or even a fluorocarbon equivalent. Flouro leaders are a bit more abrasion resistant and less visible to a wary fish.
Why use a trace of wire? Although blackfins are a bit more likely to avoid wire leaders. Using the extra protection will insure that any smoker kingfish or wahoo that take your bait end up in the fish box. Again, if you don't care for these fish and only want to catch the tunas forget the wire.
Well, that's pretty much it for right now. I will be conducting several fishing seminars at the Bass Pro Shops in Miami.  Topics, dates, and times will be announced both on my FACEBOOK page and website (link below).
Also, don't forget that you can keep up with all of the action by following us on FACEBOOK, Instagram, and Twitter.  If you like watching some of the action, be sure to check out my YOUTUBE page for the latest video additions.
Tight Lines,
Capt. Orlando Muniz
Nomad Fishing Charters
(786) 266-0171
Sponsors and friends:  Mercury Marine, Bass Pro Shops, Offshore Angler, Tracker Marine, Gray Taxidermy, Baitmasters, Orca Coolers, SeaDek, Costa Del Mar, and Yo-Zuri.