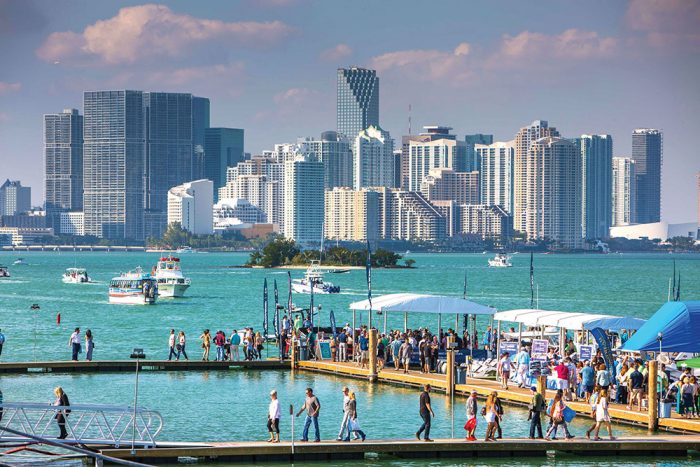 For those seeking ultimate enjoyment at one of the world's largest and greatest boat shows, the VIP Experience is the hot ticket for the 2017 Progressive Insurance Miami International Boat Show, Feb. 16-20.
In its second year at the iconic Miami Marine Stadium Park & Basin, the show will offer more boats, large yachts, marine product debuts, transportation options, dining and fun than ever before. There will be excitement for everyone, but those who prefer more of an upscale experience should treat themselves to the VIP Experience. With ticket packages ranging from $70 to $100 per day, guests will enjoy exclusive access to the VIP Lounge aboard a 111-foot luxury yacht docked at Pier 9 among more than 100 of the biggest and most extravagant motor, cruising and super yachts ever displayed at the show. The VIP Experience includes upscale dining and beverage service, live music daily, an air conditioned indoor lounge, an open sky deck with stunning views, private restrooms, complimentary Wi-Fi and an array of complimentary services and luxury product displays.
All of this comes on top of what the Progressive Insurance Miami International Boat Show is recognized for: a world-class boat-show experience for more than 100,000 attendees and exhibitors.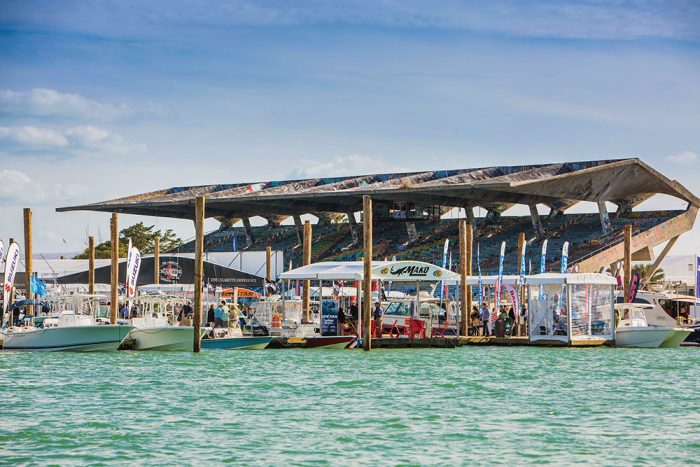 This year's show will be the best ever. Organizers anticipate more than 1,300 new boats on display with more new model debuts than ever before. What's more, the number of boats in-water is expanding to an estimated 550 boats and yachts—all located in the show's state-of-the-art marina. From sport fishing boats and high performance boats, to personal watercraft and wake sport boats, family cruisers and luxury yachts, there is something for every lifestyle.
The show will also once again offer sea trials, where shoppers can take boats out for a spin. This year, more boat exhibitors will participate, giving boat buyers a chance to test-drive a number of options.
And be sure to come hungry and thirsty. A highlight of the 2017 show is an enhanced food and beverage program featuring more than 150 options ranging from luxe to casual fare.
Whether you choose to come by water taxi, shuttle bus or car, the show offers seamless transportation to and from the show as well as ample and convenient parking options.
Show hours are 10 a.m. to 6 p.m. every day of the show. Regular admission packages range from $25 to $100 for multiple days, and children younger than 15 are free. For more information, go to www.MiamiBoatShow.com.