By John N. Felsher
Despite a small coastline with few natural reefs or other structure, the state of Mississippi embarked upon a program to improve fishing artificially — with some help from recent storms!
The state of Mississippi conducts three different artificial reef programs to build marine habitat and enhance recreational fishing – inshore reefs, offshore reefs and converting old oil platforms to fish habitat. The state established 67 inshore reefs between the Alabama and the Louisiana state lines including some in Bay St. Louis and the Back Bay of Biloxi, also called Biloxi Bay.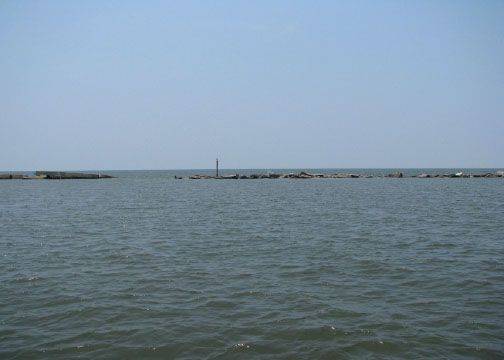 "Most of the inshore reefs are made out of limestone or crushed concrete," explained Kerwin Cuevas with the Artificial Reef Program of the Mississippi Department of Marine Resources in Biloxi. "We put limestone out and it provides a surface where oysters can attach themselves. This creates a living reef. Many anglers in Mississippi take advantage of fishing these reefs because the rocks create habitat for a variety of species. Fish come to that reef and forage on small fish and other species. That brings in bigger fish."
When Hurricane Katrina ripped through the Gulf Coast in August 2005, it left a massive trail of destruction and scattered debris all across the Southeast. Rather than dump concrete chunks in landfills, the state used some of that debris to build Katrina Reef and other fisheries habitat. Comprised mainly of chunks from the old U.S. 90 bridge that once connected Biloxi to Ocean Springs before Katrina flattened it, Katrina Reef protrudes from the water just offshore from Biloxi in Mississippi Sound. It stretches about a mile long.
Hurricane Isaac hit in 2012, destroying some reef markers and burying rocks with silt. While anglers might experience difficulty finding reefs without markers, fish can easily find them. Each inshore reef attracts a wide variety of fish species including redfish, flounder, speckled trout, white trout, whiting, black drum, croaker and other species. They often sit within easy range of public boat launches or at popular fishing honey holes. Wade fishermen along the beaches and some barrier islands or paddlers in kayaks can access some of these reefs.
"Each reef is a fish oasis," said Capt. Sonny Schindler of Shore Thing Fishing Charters (228-342-2206 or www.shorethingcharters.com) in the town of Bay St. Louis. "They get a lot of pressure, but the reefs all hold fish. The reefs have really taken off for big speckled trout, redfish and sheepshead. Some extend above the water. Others are just crushed rocks. I wish the state would line the entire coast with artificial reefs because they are such good places to fish. We don't have a lot of other natural structure on the beaches."
Close to the Louisiana line, the state established Jailhouse Reef in Mississippi Sound near Buccaneer State Park outside Waveland with debris from a prison demolished by Katrina. Several other good fishing reefs in this area include Bayou Caddy Reef, also built in 2006 with Katrina debris, and nearby Taylor Reef, which dates to 2002.
Outside the barrier islands in water 20 to 130 feet deep, the state also established 14 offshore reefs. These reefs consist of concrete rubble, culverts, old barges, boats, derelict ships, large limestone chunks and other materials. They provide habitat for a variety of reef fish including red snapper, various grouper species and roving predators like Spanish mackerel, king mackerel and cobia.
In the Rigs to Reefs program, the federal government requires oil companies to remove old drilling platforms down to 15 feet below the mud bottom. The oil companies can take these platforms to shore for scrap or clean them up and donate them to the state for reef building material.
Many anglers and conservationists urge the government to change the law, allowing old rigs to remain in place. Many structures sat in place for decades. Over the years, millions of organisms flourished among the steel legs and supports of these platforms, building entire ecosystems. Many platforms provide habitat from the surface to the bottom. Removing these structures destroys existing marine habitat created by these artificial reefs.
"Artificial reefs are very important to our recreational fishermen," Cuevas said. "We want to make sure anglers enjoy the reefs. We solicit input from fishermen on where they would like to see us build new reefs because they know the best spots to place these reefs."
For more information about the Mississippi Artificial Reef program and for locations of reefs, see www.dmr.ms.gov/marine-fisheries/artificial-reef. To suggest an area where the state can build new artificial reefs,