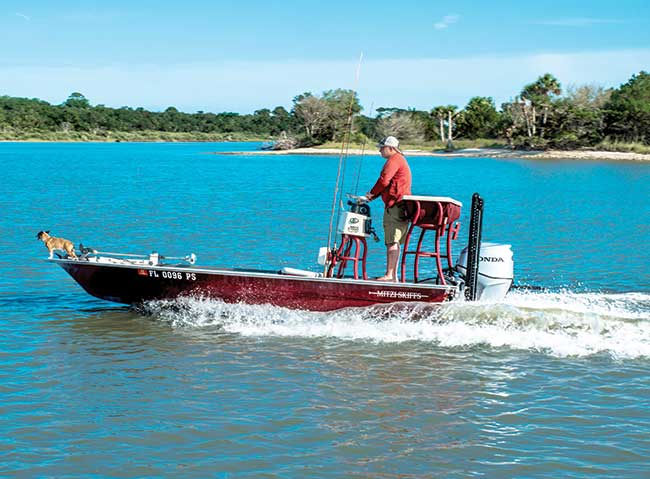 "Let's go fishing dad." That's all I needed to hear from my wife and daughter to get a boat ready.
Wait a minute, I sold my inshore boat a few days ago. I have a tendency to do that being the owner of a boat dealership. Big Boys Play Toys Inc., in Palatka, Fla., has made it easy to get my hands on a new boat whenever I felt the need.
"Well girls, let me see what I can come up with."
So I grabbed a 17 Mitzi Skiff powered by a Honda 50 hp and prepared the boat for a trip to the Intracoastal. We loaded up two girls, a 75-pound boxer named Cupcake and off we went. Basically, four people popped up on plane and off we went wiggling our way through the creek, dodging oyster mounds and grass islands heading for my favorite hole. The whole time I'm thinking, "I can't put a scratch in this new boat or the value will drop."
That is when the Mitzi Mini Tower was conceived. I stood up on the rear deck to see the next obstacle that could devalue this beautiful Mitzi and realized this was the vantage point that every owner could appreciate. The fishing trip was a great family outing, but I had a mission now to create the best stand-up inshore fishing machine for the money. What better platform to work with than the 17 Mitzi tiller model with no console. Each one we build continues to get better as we take the advice of guides and customers and put that in the next one we build. The interior deck space is increased along with the poling platform being lowered and moved forward to create a leaning post. This makes the balance better when poling the boat. A great machine derived from a need to protect your investment.
Length: 16'10"
Beam: 77"
Draft: 7"
Weight: 550 lbs.
Fuel: 12 gal.
Max HP: 70