Capt. Terry Fisher
FISHING SW FLORIDA AND FLORIDA KEYS
Summer months are my favorite months to go fishing as fishing in SW Florida is about as good as it gets in regards to both inshore and offshore adventures. August is a month to target a number of species to complete one's 'bucket' list. Reef and pelagic species are abundant in our waters. Winds permitting, long offshore runs to 100'-130' of water may prove to be a worthwhile endeavor providing harvest of big yellowtail, mangrove, lane, vermillion snappers together with a variety of grouper species. The waters are warm and it is essential to fish deeper depths than those of 'close' reefs (35'). However, pelagic fish (mackerel, cobia, permit, barracuda and sharks) may be found around the shallower reefs. Look for the bait fish and diving birds in those areas and give it a try.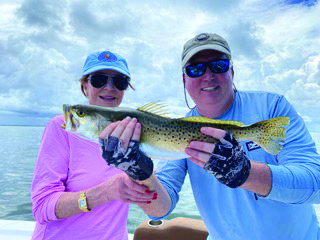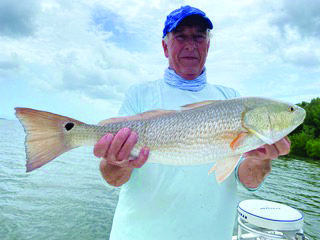 Big snook are in the passes and just off of the beaches. The points with current and deep current cuts will prove best around the passes and have structure such as tree stumps and rocks. Inshore snook will be found on the inside around the boat docks and railroad truss bridges. Other locations for the sought-after game fish are in and around mangrove trees. Use sufficient tackle-medium heavy rod and 3500 to 4000 series spinning reels-to effectively fight and land these fish in a timely manner. Big fish will fight to exhaustion and easily die during hot summer months with water temperatures above 80°. Use 1/0-3/0 hooks with a 25-30lb test leader for freelining baits such as pilchards, pinfish and larger shrimps. Artificial presentations will work as well. Snook are closed to harvest in our immediate area of Ft. Myers and Cape Coral and the outer islands.
Redfish harvesting is also closed, but the 'hunt' and experience does not stop an avid angler from targeting them. The same size rod and reel combo 'setup' is recommended to hook and land the larger redfish. They will be located in the same areas as the snook mentioned above. Although, I have had success fishing artificial presentations, many more redfish will be caught on live or dead presentations such as, shrimp, pinfish, live pilchards, 'cut' ladyfish or finger mullet.
FWC has opened seatrout for harvesting. Check out the regulations for compliance. The seatrout population seems pretty substantial but there are more restrictions with less bounty on the harvest. This was a good move on behalf of FWC with all of the pressure from new anglers, existing water quality issues and the uncertainty of future water quality problems. This species will be found on almost any type of seabed incorporating grassy spots at any depth. The most effective place to fish for them however, is in the grassy flats of Pine Island Sound, Bull and Turtle Bays of Charlotte Harbor. Water depth of 3'-5' should be very productive with both artificial and live shrimps. Those that want to catch lots of seatrout, ladyfish, catfish and Jack Crevalle (with an occasional Spanish mackerel or pompano) should use shrimp as their bait of choice.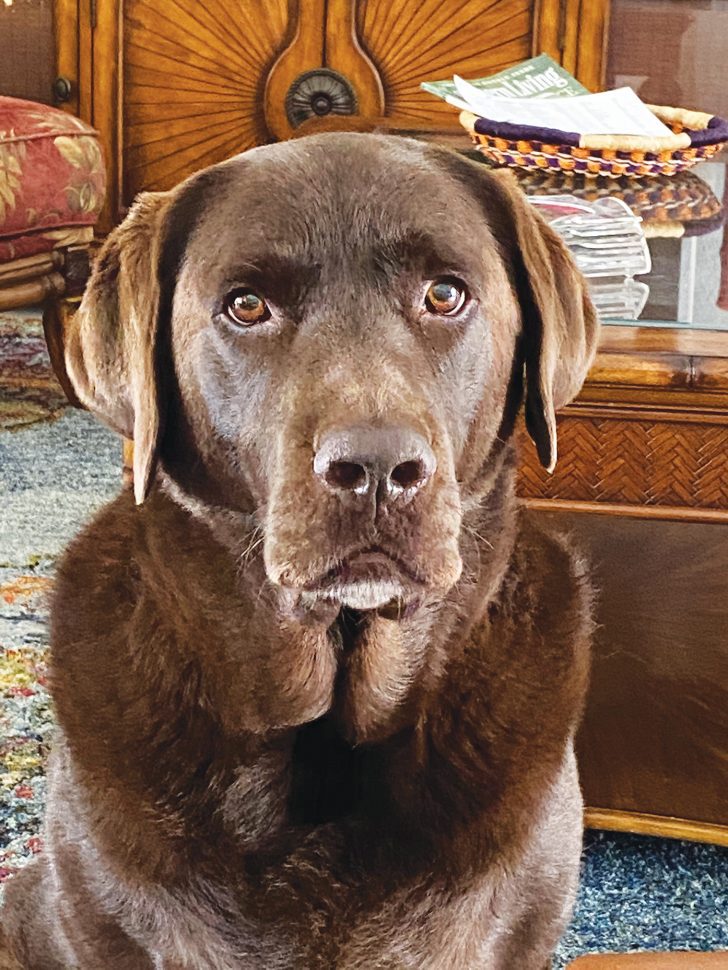 THE FLORIDA KEYS ('Keys') are strategically located for SW Floridian Anglers and 2nd Mate, MOBY 'DICK' (Chocolate Lab) is accompanying 1st Mate Vicki and I to Marathon for two full weeks of fishing for dolphin, yellowtail snapper and tuna. We have leased a house on Key Colony (Marathon) from August 14-28. Weather permitting, we have a few clients that have expressed an interest in joining us on an offshore charter or two during that period and we look forward to accommodating them. We plan on making this a yearly event, so keep us in mind for your charter.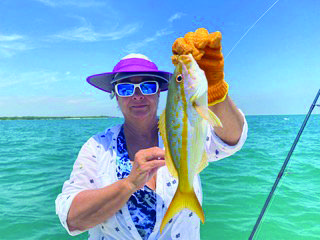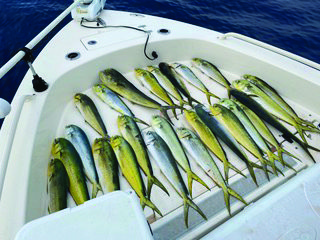 The annual 'Mullet Run' starts around the end of August or September in the Stuart, Florida area. Vicki and I have fished that area in past Septembers for snook, tarpon, reef species, tuna, dolphin and sailfish out of the Port Lucie Inlet with tremendous success. All of these areas are within a 4 hour drive (or less) and those with the flexibility (on short notice) to take advantage of good weather and time to enjoy fishing the east coast as well. Understand that fishing the east coast is the same as the west coast in regards to the type of species that will be prevalent at a chosen location throughout the year. For example; summer time (June, July) are good for dolphin and tuna in the 'Keys', late fall for sailfish, and early winter months for wahoo. Naturally, there are overlaps to the months mentioned. The pelagic fish come and go with the bait and water temperatures of the Gulf Stream. The target species you select will determine the months and locations to travel to fish.
This is Captain Terry Fisher of Fish Face Charters LLC wishing everyone, tight lines. Check my website at www.fishfacecharters.com. Charter information may be obtained from there or by emailing me at fishfacecharters@yahoo.com. I am available as Captain for Hire on your vessel (by the hour) for navigational, fishing techniques, and locations also.