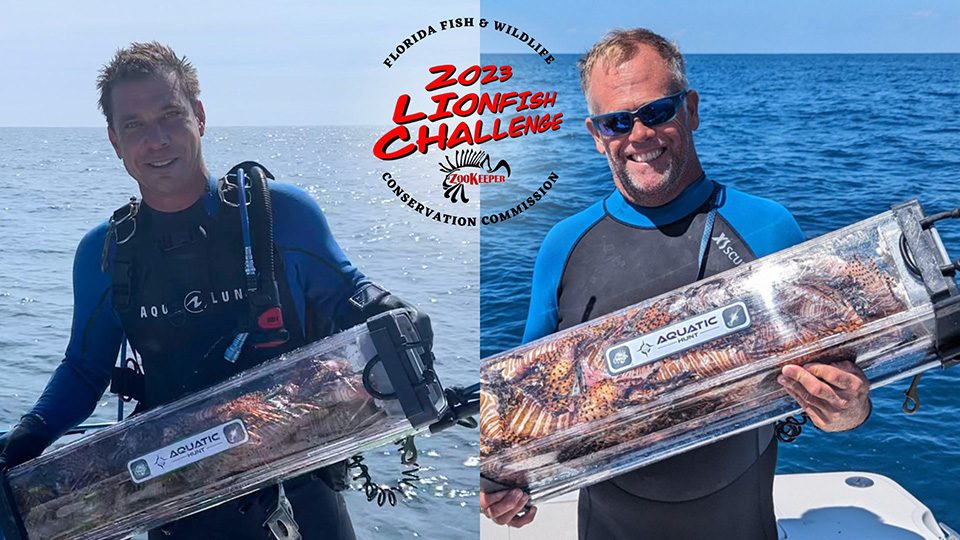 The results are in for Florida's 2023 Lionfish Challenge, and it was a record-breaking year for divers working hard to protect our reefs from the scourge of invasive lionfish.
With 281 participants embarking on 917 trips, the Florida Fish and Wildlife Conservation Commission's (FWC) annual four-month tournament removed 30,494 lionfish from Florida waters. It was a record-breaking year for participation, nearly doubling the program's previous high. The total number of lionfish removed was also a new record and beat last year's numbers by nearly 5,000 fish.
The event is one tool in FWC's box to beat back the invasion of these beautiful but destructive little critters that plague Florida's reefs. Lionfish are native to the Indo Pacific and the Red Sea. They were first reported off the Atlantic coast of Florida in 1985, and since then have spread like wildfire. They now inhabit the Atlantic coast up to North Carolina, the entire Gulf of Mexico and Caribbean.
Lionfish are well equipped to outcompete native species on warm-water reefs. An array of venomous spines makes them unlikely prey item for larger fish, and they are voracious predators of smaller native fish and invertebrates. Lionfish reproduce prolifically and populate suitable habitat in high densities. They reduce native reef populations and have negative effects on overall reef habitat and health. They are a nasty invasive, and humans killing them continuously is the only way to combat them by controlling their numbers. By the way, they taste pretty good sizzled up in butter.
Divers competing in the Lionfish Challenge are rewarded for their efforts, and winners are announced at the conclusion of the tournament. The following are the divers who speared the most lionfish in the 2023 Lionfish Challenge.
Recreational Division
Lionfish King: Baye Beauford-1,514 lionfish
Second Place: Dale Wolber-1,145 lionfish
Third Place: David Connerth-773 lionfish
Commercial Division
Commercial Champion: Jerry Butler-1,208 lbs. of lionfish
Second Place: David Garrett-744 lbs. of lionfish
Third Place: Alex Fogg-516 lbs. of lionfish
Military Prize
Eric Larson-591 lionfish
Get involved through the FWC Reef Rangers Facebook page at Facebook.com/FWCreefrangers