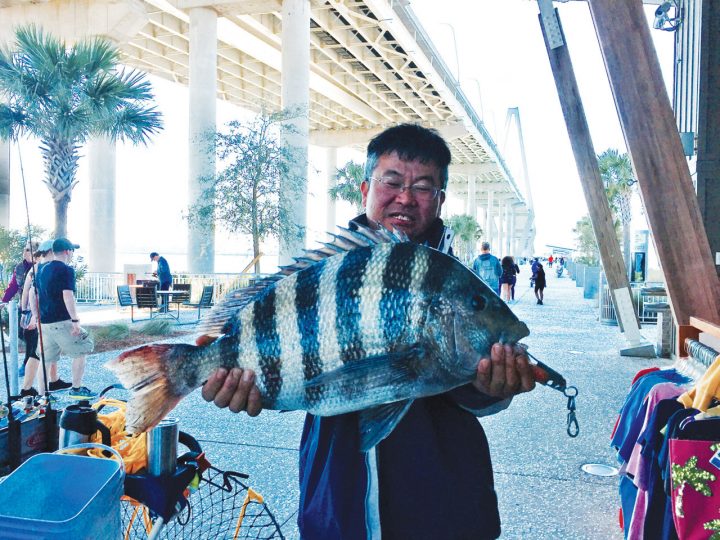 April is a great month to fish in the Charleston area. The weather this month should be mild, so throw on a pair of flip-flops, grab a cold beer from the Riverwatch Cafe, and head down the pier to see what's biting.
A great species to target in April is the flounder. The best way to target these doormats is to hop a finger mullet or mud minnow along the bottom between the pier pilings where the tide rips through. Vudu shrimp and other artificials can produce results when fished the same way as well. Flounder and other predators will sit and wait for the tide to bring an easy meal. Live shrimp or mud minnows, along with soft plastic jigs, are great bait options when looking for trophy trout. Additionally, sheepshead typically hang around the pier pilings year round. In fact, the new pier record was caught on March 5, 2017 by Seung Noh. This beast weighed in at 13 pounds, 11 ounces and generated quite a buzz when it came over the rail.
April should be a great month at the pier and should see some diverse catches.  Be sure to give the Mount Pleasant Pier a call at (843) 762-9946, and the friendly folks on staff will let you know exactly what is biting and the best way to land the big one. It is a great time to hone your skills and get ready for the first pier tournament of the year. The Cast-Off Fishing Tournament series officially kicks off the summer for Charleston County Park fishing tournaments on Saturday, May 20. The competition runs from 6am-2pm, and entry is only $5 plus the regular daily fishing fee. Advance registration is available at charlestoncountyparks.com.
Please also note that there is NO FISHING from the pier April 30, 2017 due to the Blessing of the Fleet & Seafood Festival at Mount Pleasant Memorial Waterfront Park.
Chris Pounder, Manager Mount Pleasant Pier
www.charlestoncountyparks.com
(843) 762-9946