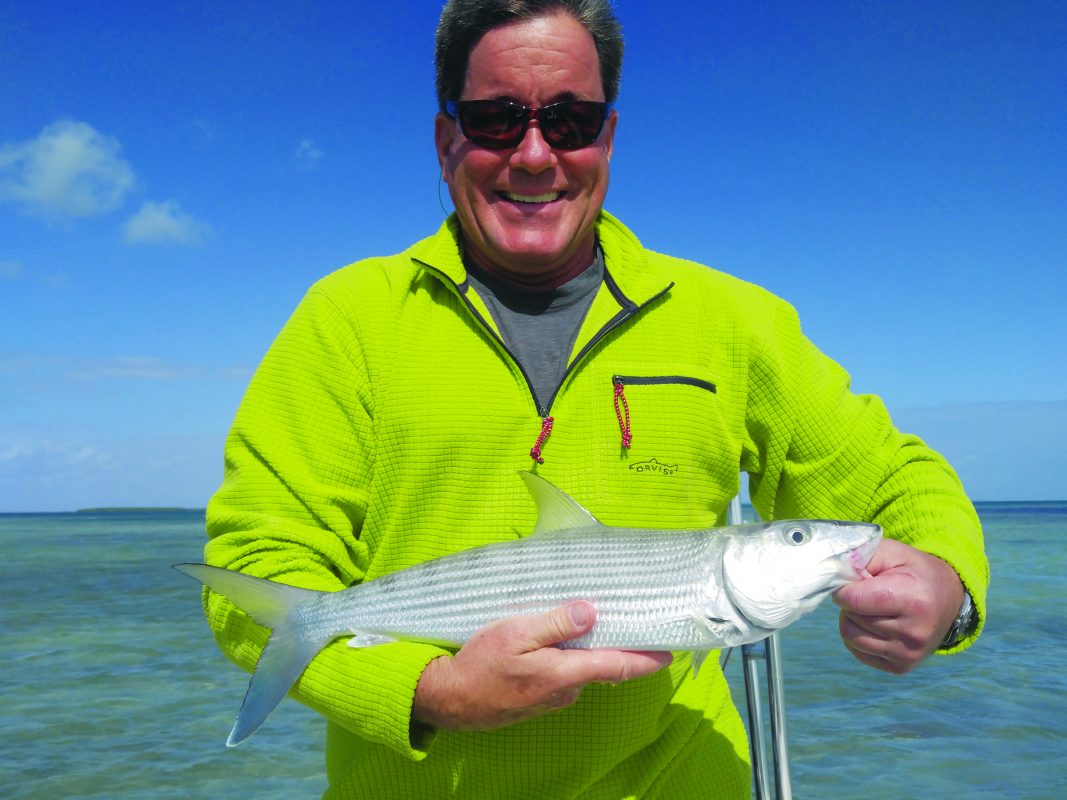 In April we celebrate April fool's day but in reality, one would be a fool to not fish the flats in April in Miami's Biscayne Bay.  There is so much going on, tarpon season, bonefish, permit, big sharks and barracuda. All sporty targets for anglers of all skill levels.  Sure April is windy, but the wind usually provides clear skies, plenty of fish activity and rising water temperatures, all conditions for great fishing. How to get started?  Ten pound class spinning outfits on 7′ spinning rods, 1/0 hooks and 30lb fluorocarbon leader is all you need for bones, permit and barracudas (6″ trace if wire for barracudas). Tarpon and big sharks will require stouter gear, seven foot rods, 60/6000 class spinning reels, 30lb braid, 60 pound fluorocarbon leader with 4/0 3x circle hooks for tarpon and 5/0 bronze hooks on a 10″ trace of 69 pound wire for sharks is perfect. I use Quantum Boca 60 reels on Tsunami rods spooled with Cortland braid and have been very happy with this set up. Tsunami rods on Quantum Boca 40's will cover the bones, permit and barracuda needs.
In order to put your gear to good use you need to find several conditions that allow for the high probability of finding fish which translates into screaming drags, trophy fish and lots of Facebook bragging. The number one key to finding fish is to fish moving water.  No moving water equals no fish.  This means avoid fishing the slack periods of the tide or areas whose topography doesn't allow good water flow. The second thing to look for is structure. Structure on the flats?  Sure!  I'm not talking downed trees, pilings or ship wrecks but there are different types of "structure" on the flats. Points, edges of flats, deep fingers that dead end on a flat and the subtle drop off of flats into slightly deeper water. Combine these types of structure with good current and you have a great start to finding fish on the flats.
While chasing trophy fish we tend to get excited and not think too clearly as we let our emotions take over however, our trophy fish are very valuable to us and our marine environment therefore certain steps should be taken to ensure the safe release of each fish we land. Here are some tips that will improve the odds of survival of our finny trophies. For bones and permit always use a landing net and keep them in the water while hooks are removed, cameras are readied and photo shots are set up (always face the sun to get a clear shot of fish and angler).  When taking the fish out of the water make sure they are not out for more than 30 seconds at a time.  If more photos need to be taken, put them back in the landing net and in the water for a few minutes and then take the last set of shots.  For barracuda I always use a landing tool such as a Boga Grip which provides some protection for me and allows me to leave them in the water in lieu of a landing net.  I release these fish by the tail and allow them to kick away when they are ready.  One thing to keep in mind though, on these flats there are sharks and the sharks can be opportunistic when a fish is released before they are ready or while at boat side.  Keep an eye out for sharks to make sure there is no injury to angler or fish during the landing and release phase of your catch. Tarpon releases are a bit easier since by law we are to leave them in the water at all times but as with bones and permit, a quick fight will improve their recovery phase.  Always keep the tarpon at boat side with the boat idling forward to order to speed and improve their recovery before release. Shark releases are no different as we should keep them in the water, remove any hooks if at all possible and allow them to swim away under their own power. The challenge comes when boating a big shark for a photo op.  These should be done in around 30 seconds and then quickly lowered into the water, held by the tail until they swim away on their own. Of course, there are inherent dangers in boating then releasing sharks but we need to factor that in when pursuing these apex predators and ensure a healthy release.
Well, I hope everyone has a great April and have fun out there!
Capt. Mo Estevez
(786) 853-1409
Instagram @MiamiBoneFishing