By: Capt. Jeff Bacon
Michigan Fly Fishing Ventures
(616) 560-3195
www.westmichiganflyfishing.com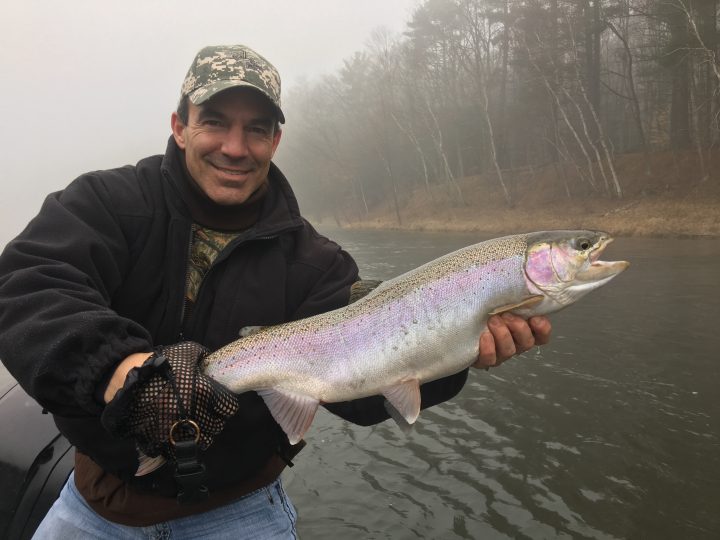 In April, we'll likely see heavy rains that bring the river up and keep it running a bit high through the first week of the month. Then the river typically comes down in level, clarity improves, and the water temperatures rise, making both migratory steelhead and resident rainbow and brown trout very active.
For the fly fisher, streamer fishing can be done while on the move or swinging streamers from a fixed location, while "dropping down" a few feet after each cast and swing. Floating line and indicator rigs – a.k.a. "indicator nymphing" – is also very effective when river levels are running near average flows. Another common method is bottom bounce, nymphing, or "chuck and duck" as it's commonly called. Streamer rods range from 9-12+' in length, in 7 or 8 weight, depending on whether your casting-retrieving or swinging flies. Both are done with either sinking or sink tip fly lines, and on reels with a good drag system, large arbor reels are becoming more popular as they allow for quicker line pick up than standard arbor reels. For floating line/indicator and chuck and duck setups, rods of 9-10′ length, also in 7 or 8 weight, have both the power to handle big game fish, but with sensitive enough tips to protect lighter tippet where applicable. You can get away with stronger tippet when streamer fishing, 15+# test common, but lighter tippet in the 8-10# range better for the other two setups.
For the conventional tackle angler, open face spinning, as well as baitcaster reels, paired with rods in the 9-12′ length, are good matches for migratory steelhead. As with fly gear, having a way to bottom bounce, float something under a bobber or cast and retrieve a lure will cover the bases, but with very different rod/reel combinations. Bottom bouncing setups would be on a 9-10′ long rod, in medium action, rated for 6-12# line on either an open face spinning or baitcaster reel, with 8-10# test tippet. For float/bobber fishing, longer rods in the 11-12+' length allow for the best line management while "drifting," as well as great hook setting capabilities with the longer rod. Whether you're fishing bait, egg or insect imitations, tippet in the 8-10# range will suffice. As for casting-retrieving lures, a shorter rod in the 8-9′ length, with similar ratings as a bottom bounce rod, but with a reel spooled with slightly heavier line such as 12-14# test will work best. April brings the first significant "hatch" of the new season as our #12 black stoneflies emerge once water temperatures get into the 40's, but it's not always a given that trout will "look up" for them….It's ALL water temperature dependent.