By: Capt. Jeff Bacon
Michigan Fly Fishing Ventures
(616) 560-3195
www.westmichiganflyfishing.com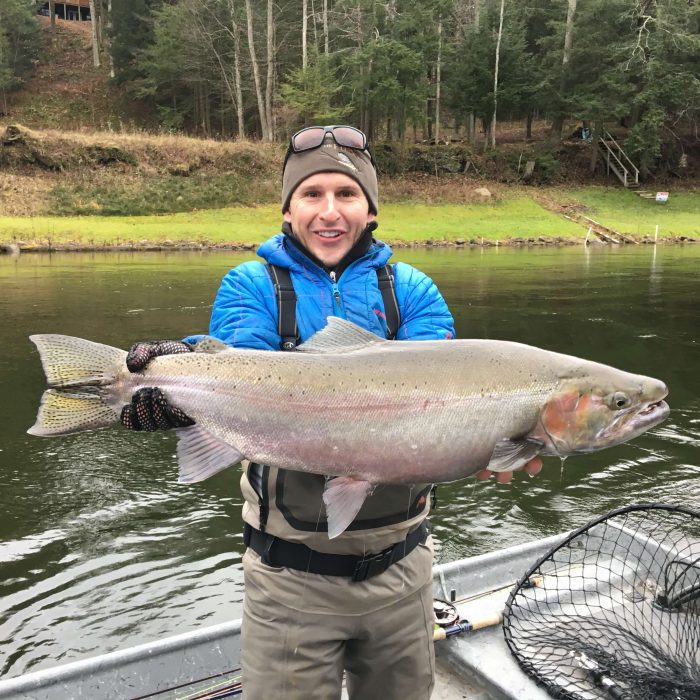 As winter settles into West Michigan, thoughts shift to warm retreats to the south or post-holiday outdoor activities such as snow skiing, snowmobiling, ice fishing, and more. For those looking at other activities for the New Year, fishing resident rainbow and brown trout, along with the mighty steelhead on the Muskegon River is choice #1! The Muskegon River in the Newaygo area is one of a select few rivers in the Midwest that don't freeze over during winter months and offers access to good fishing in January and February.
With dropping water temperatures, we approach the winter steelhead fishing in stealth mode, often fishing very small offerings of egg patterns, nymphs, and bait, on light line and long rods. Regardless of whether it's on fly fishing or light spin tackle equipment, we can target both trout and steelhead on the same setups.
Another annual occurrence of significance to the fly fisher is winter month midge hatches, which can bring rainbow and brown trout to the top for some fun dry fly fishing on #18-22 dry flies, on 7 & 8x tippet, cast of lighter fly rods. This occurs as water temperatures drop, midge larva mature and eventually emerge, offering trout a "meal on top."
Many anglers look for a break in the weather a few days out and take advantage of this wonderful winter fishery to get out for a few hours of fishing. Whether it's on their own, walking into a favorable fishing spot, or going out with me on my "Winter Special" half-day outing, it's a great little getaway in a very peaceful and beautiful setting of the Muskegon River.
It won't be long before thoughts shift to our annual spring steelhead run on the Muskegon River, which begins in early to mid-March based on weather and goes well into May, often into ladder half of the month. Shortly after, it's dry fly time as we cast our caddis, sulphur, BWO, gray drake and isonychia patterns to rising rainbow and brown trout in May and June.
Enjoy the wonderful winter activities that we have available here in West Michigan; we are truly very fortunate to have such an array of things to do during the winter months.