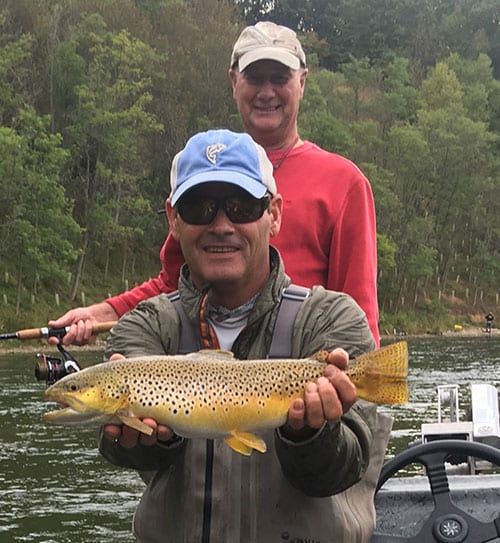 By Capt. Jeff Bacon
The month of November historically finds the Muskegon River amidst a change of both the target species of great lakes big game fish we pursue, along with different methods we can use in fishing for them. The key word here is "historically," as we're certainly going to see a change in that this year due to the return of summer-like conditions in early October. The record-setting 90+ degree days that stuck around for nearly two weeks has changed how the "fall" season is progressing, and we will surely see chinook salmon in the Muskegon river later than normal, but also have fall steelhead to fish to as well.
As the salmon complete their annual spawning run, fall steelhead will be posted up close to them, eager to suck down both the nymphs that get kicked up during the salmon spawning process, as well as the eggs that freely flow down river as well. Resident brown and rainbow trout will also capitalize on these easy meals, as they prepare for the colder months ahead.
In general, salmon setups will be the heaviest used, with tippet in the 10-12# range, followed by steelhead tippet in the 6-8# range and going after resident trout with 3-5# line will get the best results.
Fly fishing options include the always effective bottom bouncing – a.k.a. "chuck & duck," as well as indicator nymphing and swinging or stripping streamers with sinking or sink tip lines. The streamer bite has always been "a lot of work for not a lot of payoff," but there is nothing like the strength of a salmon yanking on a big 'ol streamer! Fly rods ranging from 8-10 weights are necessary, as we have some BIG salmon swimming the rivers of West Michigan this fall.
Spin tackle setups would include 9-10' long, medium-heavy rods, with a reel that has a good drag system. If not spooled with braided line, reels will have 14-16# mono, for bottom bouncing egg and nymph imitations, as well as floating bait under bobbers. For those looking to toss some hardware around, casting-retrieving lures is feasible as well.
As we're seeing some rather large salmon this fall, we're sure to see larger steelhead in the rivers this fall and winter as well. Salmon pushing 30# have been caught and I would imagine that a steelhead in the 20# class is not out of the question this year.
The Muskegon River has a lot of good habitat for both spawning salmon and fall steelhead, from Croton Dam all the way down past Newaygo itself. With plenty of water to fish, finding walk-in access at or around the most popular launch sites is not a problem. That being said, the Muskegon is a big river, so go slow, wade cautiously and good fishing to all!
Capt. Jeff Bacon
Michigan Fly Fishing Ventures
(616) 560-3195
www.westmichiganflyfishing.com