February 11th-19th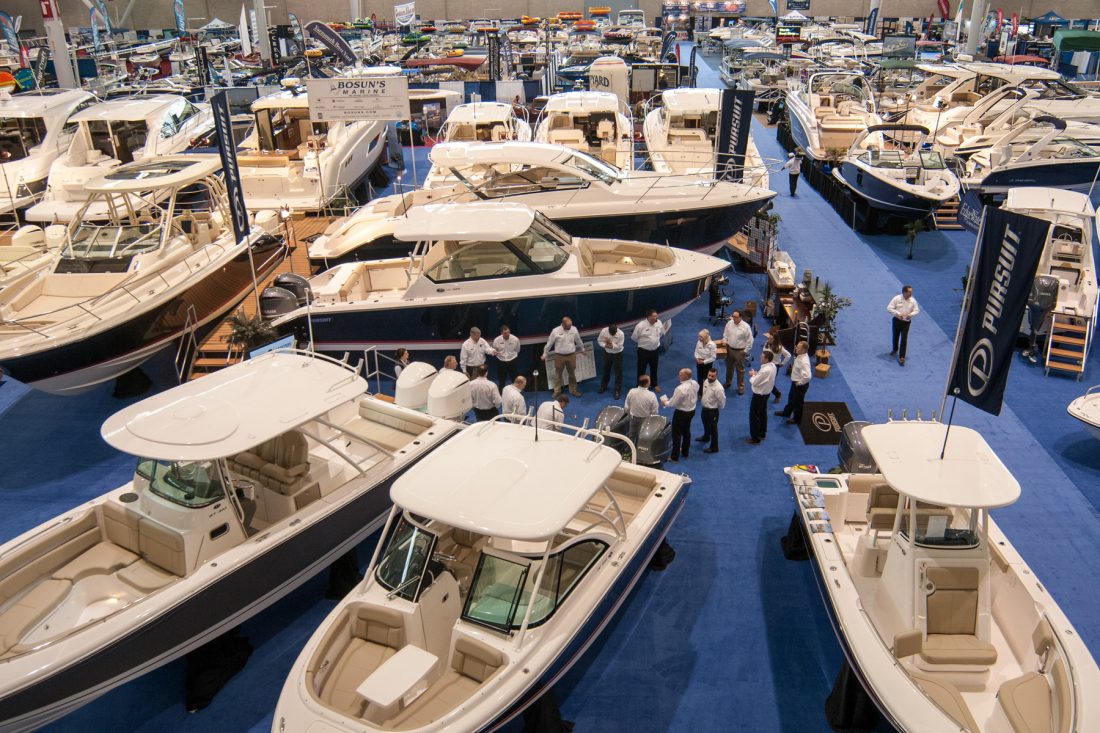 The 2017 Progressive Insurance New England Boat Show drops anchor at the Boston Convention Center, February 11-19, offering more than 800 new boats and everything nautical you need to get on the water in time for summer.
Highlights include:
Climb Aboard: Hundreds of the latest boat models under one roof for attendees to browse, board and buy for every lifestyle and budget ranging from luxury cruisers and sport fishers to center consoles and pontoon boats, plus marine accessories and much more.
Dozens of boating seminars: With a special emphasis on fishing tips in addition to advice on sailing and boating topics.
Learn to Do it Yourself! Step into Fred's Shed, an interactive garage with experts teaching the art of boat maintenance and repair.
Discover Boating Center: Unbiased information and affordable boats – some can even be financed for less than $250 per month!
Boat Building: Students from Young Achievers School in Mattapan and the Harvard-Kent School in Charlestown will be putting their math and science skills to work building a boat that will be raffled off at the end of the show.
When:
Saturday, February 11th through Sunday, February 19
Where:
Boston Convention & Exhibition Center
415 Summer Street
Boston, MA 02210
Hours:
Saturday, February 11: 10am–8pm
Sunday, February 12: 11am–6pm
Monday-Friday, February 13-17: 1pm–9pm
Saturday, February 18: 10am–8pm
Sunday, February 19: 11am–5:30pm
Tickets:
$15 for adults; FREE for children 15
and under
(when accompanied by an adult)
Purchase online tickets at:
www.newenglandboatshow.com or at the box office during the show
All active military, law enforcement personnel and firefighters will receive one free ticket with valid ID
Phone: 617-472-1442
Web: www.newenglandboatshow.com
About the Progressive® Insurance New England Boat Show: The Progressive® Insurance New England Boat Show is produced by the National Marine Manufacturers Association (NMMA), the world's largest producer of boat shows and the leading association representing the recreational boating industry. NMMA member companies produce more than 80 percent of the boats, engines, trailers, accessories and gear used by boaters and anglers throughout the U.S. and Canada. The association is dedicated to industry growth through programs in public policy advocacy, market statistics and research, product quality assurance and promotion of the boating lifestyle. For more information, visit www.nmma.org. About Progressive: The Progressive Group of Insurance Companies makes it easy to understand, buy and use auto insurance. Progressive offers choices so consumers can reach it whenever, wherever and however it's most convenient—online at progressive.com, by phone at 1-800-PROGRESSIVE, on a mobile device or in-person with a local agent.