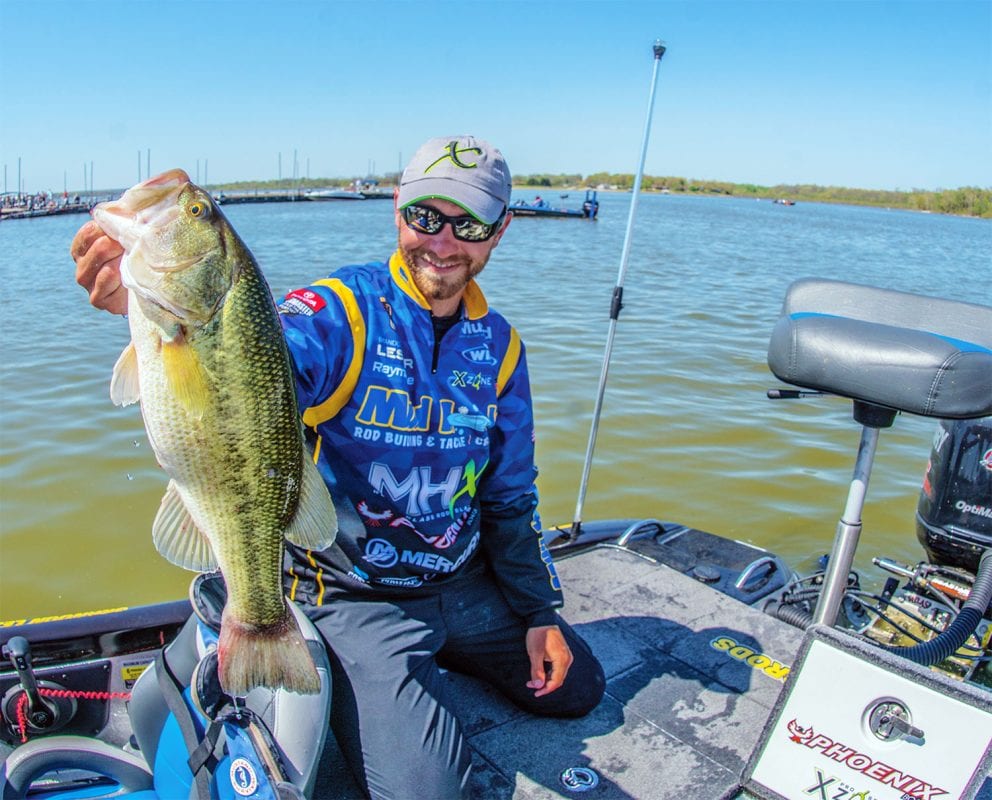 I'm headed to Pickwick Lake today and have a Neko rig tied on. Don't know what a Neko rig is? It's a pretty simple rig that really works no matter where you fish. You'll probably start catching so many fish with it that you'll turn pro soon and try to beat me on the Elite Series!
OK, maybe I'm exaggerating a little, but it does catch fish—and good ones too. The big bass shown here was one I caught on the rig in the Bassmaster Elite Series event this year in Oklahoma.
From the photo, you can see the bait is rigged wacky-style, with the hook in the middle of the worm. A light nail weight is inserted into the head of the bait, which makes the bait stand on its head when it reaches the bottom. The fish can't stand it.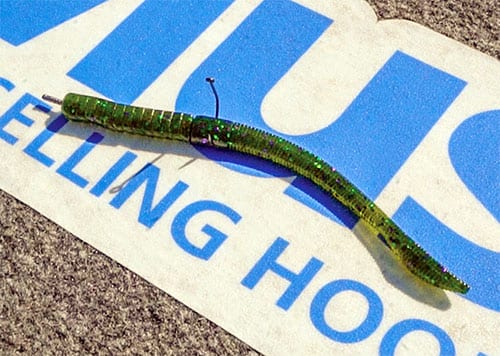 It works really well all year all over the country. The rig works at all depths, too. In the summer, I suggest fishing it around bluegill beds and skipping it under docks. It is very skippable, and that makes it a great bait for fishing the shade of docks. It is a finesse approach and will coax sluggish bass into biting.
As more and more anglers get better at learning to fish offshore, the fish get more and more conditioned and tough to catch. The drop-shot rig was a technique I started to use when fish weren't biting out deep in recent years. A Neko rig fits into that same category, but I think you can catch bigger fish with it. The main reason for that is you can use bigger worms and bigger hooks.
For depths of less than 10 feet, I use a 1/32- or 3/64-size nail weight. Out deep, I go with a 1/16 to 1/8, depending on the depth and current in the lake. The best hook for this technique hands-down is the Mustad Titan X Wacky/Neko hook. Once you get a hook in them on this rig, they don't come off.
I throw the Neko rig on an MHX NEPS 81MXF spinning rod. It is 6'9" with medium action and I pair it with 10-pound Vicious braid and 10-pound Pro Elite Fluorocarbon. The bait of choice the majority of the time is a X Zone Fat Finesse Worm. When I'm out fishing deep on ledges, I'm not afraid to rig up an 8- or 9-inch straight tail worm as well. Green pumpkin works best around beds, and a plum color is good for deeper water applications.
Have fun and let me know on social media if this works for you. Facebook – Pro Angler Brandon Lester and Instagram @brandonlesterfishing.
Get more tips from lester at
fishingmagazine.fishing