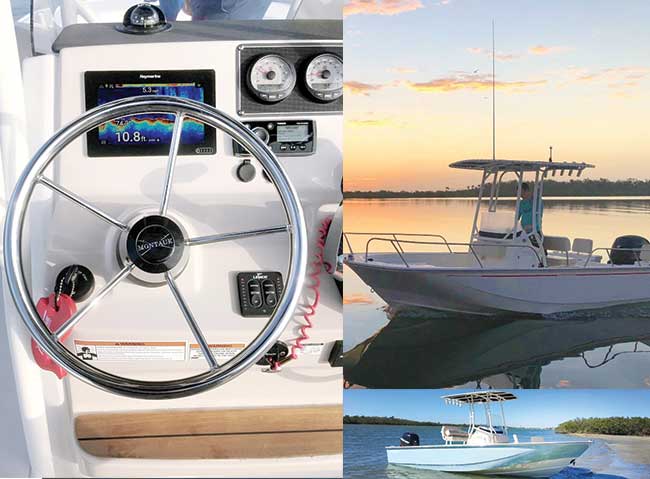 By CAM Staff
In the mid-1980s, I had a good friend whose father was the proud owner of a 17' Montauk. We spent summers aboard that little Boston Whaler exploring Pensacola Bay and buzzing out short distances into the Gulf of Mexico.
It was a great little center console. Simple and practical, it was perfect for two boys and a dad who wanted to spend more time on the water and less time on upkeep. Trey's dad obviously took comfort in the peace of mind that his Montauk was unsinkable—that it would get us back to the docks regardless of the situations we might face. Even then Boston Whalers were legendary, and he took every available opportunity to talk about his boat's dependability.
It takes a long history of exceptional performance to build a following of boaters so dedicated to a brand as Boston Whaler's. Going back to 1958, when Dick Fisher introduced the first 13' Whaler at the New York Boat Show, the concept has always revolved around reliability. Fisher set out to build a boat that was fun, easy to use, easy to care for, extremely durable and built to last. His proprietary technique of injecting foam into the hull created an unsinkable boat. He torture-tested his boats relentlessly on the water to prove their toughness. He even cut one in half in front of Life Magazine reporters to prove his Whalers were fail-safe.
That stunt has been repeated in modern times. A video of a Whaler being cut in half and then motoring around can be viewed on the Boston Whaler website (www.bostonwhaler.com). It proves that the core fundamentals Fisher embraced 60 years ago remain strong for a boat builder that continues to innovate toward a better boating experience. Fisher's injection method has become known as Unibond construction, and it remains at the heart of every Boston Whaler. Along with making a boat unsinkable, Unibond construction is key to the ride quality that makes Boston Whalers such pleasurable boats.
Through the 1960s, the company grew at its home facilities in Rockland, Mass. It introduced its first center console, the Nauset, and built workboats for the government and military use in Vietnam. In 1970, Boston Whaler launched its first Outrage, a model that later became the company's flagship offshore fishing machine.
In 1974, the first Montauk entered the marketplace. Lighter than other boats its size, it could be powered by a smaller outboard, and true to the durable and seaworthy reputation Boston Whaler had gained, the Montauk became an extremely popular choice for fishing as well as for general recreation. Boston Whaler was already a legendary boat builder; through the 1980s, the Montauk became a legend in its own right.
Today, following the company's relocation to Edgewater, Fla. and several redesigns of the classic Montauk, the boat remains one of the most popular center consoles on the water. Practical design, rugged utility and easy cleanup make it an obvious choice for anglers who'd rather spend time fishing from a boat than maintaining it. A shallow draft enables quick planing and a stable, dry ride. The roomy center console layout is comfortable, fishable and features ample storage for everyone's gear.
With 15', 17', 19' and 21' models available, there's a Montauk for any inshore, nearshore or freshwater angler's needs. It'll be tough to look anywhere else once you see the new redesigns for 2018.
In reinventing the legend, Boston Whaler preserved the clean simplicity, effortless utility and complete reliability that are the defining traits of the series. They just made them better, with a keel-up redesign to ensure maximum versatility, optimal use of space and the right mix of features and options for today's boaters. New optional fishing packages on all four models make Montauks more comfortable and more fishable than ever.
You can bet the Whaler faithful out there are casting envious eyes on these new Montauks. There are a lot of boat owners out there still running their 1980s-model Montauks and wishing they'd finally wear out.
To see all of Boston Whaler's unsinkable boats, including the new Montauks and the awesome new 380 Realm, go to www.bostonwhaler.com.