As kayak anglers, we are somewhat limited to the amount of water we can cover in a single trip. This in no way restricts the countless miles of waters teeming with fish that we have access to within an hour drive of our homes. No matter how great your home waters produce fish, you are cheating yourself of even greater fishing opportunities if you don't venture out from your honey holes and take advantage of the almost endless other fisheries your area of the country has to offer.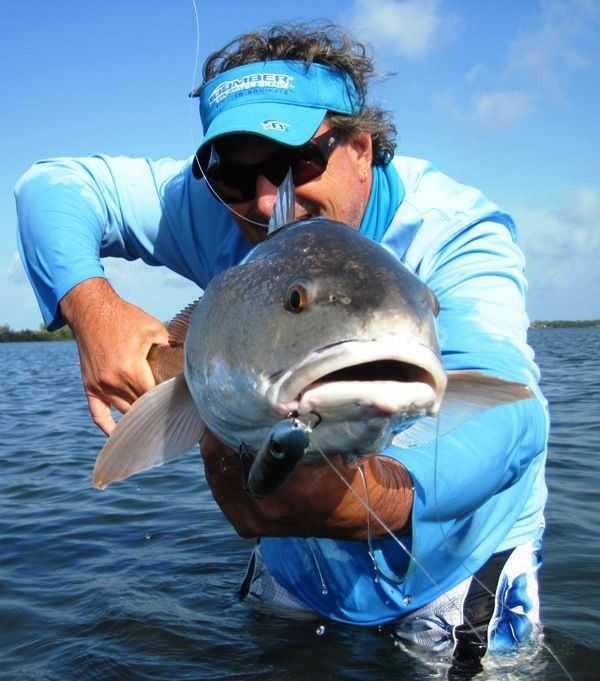 There was a time early in my kayak fishing career that I fell into the "I'm catching a ton of fish so why try anything else" routine. Not the worst problem, but still, I was launching from the same spot, fishing the same flat using the same jigs and catching nothing but trout. While this was lots of fun and a great learning experience, after awhile I became envious of the stories I heard and read from other anglers who were fishing for redfish and snook. I knew those prized species were being caught in nearby waters, and on flats that looked just like the ones I was fishing on and only catching trout, but this "trout master" couldn't figure out why the reds and snook were eluding him.
My first thought was to change baits so I set out to do some homework. I read magazines, attended seminars and watched fishing shows to figure out which bait would have those elusive species tugging on my line. All signs pointed to learning to "walk the dog," a funny term for properly using a topwater plug. I selected the Rapala Skitter Walk topwater plug for my first attempt at walking the dog. I was able to get my plug going clickity-clack in no time, but yet no surprises. After every explosion, at the end of my line there was still a trout—albeit they were getting larger in size. This was just enough of a success that I was encouraged to try more new ideas.
First, I slid further off those comfortable grass flats and started looking for the storied potholes the professionals advised me the redfish and snook call home. I peppered these sand holes with the Skitter Walk and bam! I was treated to the aerobics of small snook on my line. I was now hot on the trail of the gamefish I envisioned when I began my quest. From there, I set my sights on the mangroves lining the shores. One thing I noticed right away about fishing the mangroves was that, unless I presented my lure (whether it was a jig or a topwater plug) tight to the trees there was no chance of a snook coming anywhere near it. I painstakingly began to cast jigs and SkitterWalks alike into the mangroves with not quite pinpoint accuracy in the hopes of luring out that lunker snook. Although no squirrels were injured during this period, I buried my fair share of baits high and low into the greenery. Although this process cost me a few extra dollars at the tackle shop, it paid off huge the first time I saw that big bucket mouth break the water attached to my jig. I will forever have the vision of that 38 inch snook etched in my mind.
With confidence in my tackle arsenal building, I turned my attention to the still elusive redfish. I had caught redfish before, but from a boat and mostly on live bait in locations I thought were unreachable in my kayak. The drive to conquer the redfish from my kayak clouded my mind so much I was missing the simple solution. Finally my wife pointed out the common factor that the other anglers catching redfish possessed—they were fishing in different locations from the one I fished. So simple, right! The fact that I was going out time and time and catching bunches of fish had kept me from expanding my horizons past my comfort zone. After heeding my wife's suggestion to venture outside my usual territory, I located many new launch sites and areas to fish. I soon found myself in the midst of plenty of redfish and, with a little tactical trial and error and some invaluable assistance from a couple of Pine Island, FL site fishing gurus, the redfish began to cooperate in the same fashion as the trout and snook did before them.
Today, I still welcome any opportunity to venture to different areas my state has to offer, whether it is a short drive from my home in Venice to locales like Tampa Bay and Pine Island or a longer cross state trip to the Indian River Lagoon. Don't let that feeling that you need to catch fish every time out keep you chained to your comfort zone. I promise you won't be disappointed if you get out and experience all that your fisheries have to offer!