By Thomas Jones • Bahia Rica Fishing & Kayak Lodge
Lots of rain has turned the water into the color we like bring with it good amounts of bait. Rooster fishing has been on a high with double digit bites on several trips and fish up to 50 lbs. Apart from this jacks, mackerels, snappers and even the odd yellowfin tuna have been around.
As the rainy season dwindles, bait should stay available and the fishing should pick up an extra notch as well. Roosterfish should be gorging on bait and the dorados are already showing up making it very promising for the rest of the year. Any kind of technique will draw attention if you find the fish. More mackerels, jacks and snapper will also join in on the fun
The offshore has been a little slow but we pick up a sail or two on almost every trip. Also the odd marlin is around but expect this action to get red hot as we get into December. Sailfish normally begin to show in bigger numbers at the end of the year as well.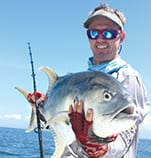 Thomas Jones is a marine biologist with an extreme passion for sport fishing. Born in Norway, Thomas have been fishing since the age of 6. His fishing experience encompasses fly fishing, trolling, popping, jigging and bait fishing. Currently Thomas is the owner of Bahia Rica Fishing and Kayak Lodge on the Nicoya Peninsula. Contact Thomas at post@bahiarica.com or visit www.bahiarica.com