By Thomas Jones • Bahia Rica Fishing & Kayak Lodge
As the water has slowly turned from clear to greener inshore, the bigger bait like green runners have turned up in big numbers. This has made the inshore fishing easier and we have had good days with multiple roosterfish, jacks and smaller snappers. Jigging is producing good fish while popping is still slow.
As the rainy season continues, bait should stay available and the fishing should pick up an extra notch as well. Roosterfish will be even more prominent followed by jacks, mackerel snappers and dorado.
There are good numbers of small dorado around at the moment and these fish will only get bigger and should provide some fun light tack action on the surface in the coming months. Popping will be a good choice to get trophy sized snappers and roosterfish while the jigging will produce snappers, jacks and mackerel.
Hopefully the offshore will be decent, with the odd marlin, some sails and tuna. There are bigger mahis around now, and the frequency of big ones should increase as the rains bring more and more debris down the rivers.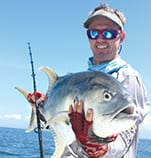 Thomas Jones is a marine biologist with an extreme passion for sport fishing. Born in Norway, Thomas have been fishing since the age of 6. His fishing experience encompasses fly fishing, trolling, popping, jigging and bait fishing. Currently Thomas is the owner of Bahia Rica Fishing and Kayak Lodge on the Nicoya Peninsula. Contact Thomas at post@bahiarica.com or visit www.bahiarica.com