By Thomas Jones • Bahia Rica Fishing & Kayak Lodge
The fishing has been tough up until now due to the lack of sardines, which are normally in the area. Recently there has been good sardine movement bringing with them a host of predators, which will eagerly take things like small jigs, flies and stick baits.
For the next couple of months, we expect the sardines to hang around, making the top water fishing excellent. Around the schools, bigger predators like sea bass, snappers and roosterfish will be hanging out waiting for an easy meal.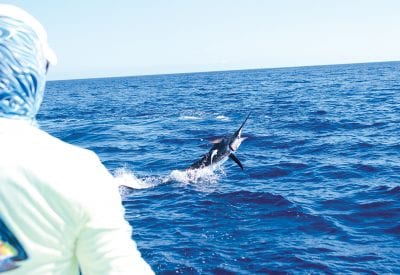 As the rainy season starts in May, greener water will take over. This will boost the jigging and rooster fishing several notches. Snappers and roosterfish will also become more responsive to poppers thrown over the rocks and in the currents. The start of the rainy season also brings in more mackerel, small mahi and needlefish.
Offshore fishing has been decent and the number of sailfish caught should start to increase. The tunas have been active lately and should remain that way for a while to come. The marlin bite has slowed, but expect to still see a few marlin being caught out there.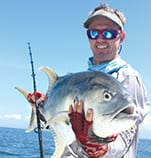 Thomas Jones is a marine biologist with an extreme passion for sport fishing. Born in Norway, Thomas have been fishing since the age of 6. His fishing experience encompasses fly fishing, trolling, popping, jigging and bait fishing. Currently Thomas is the owner of Bahia Rica Fishing and Kayak Lodge on the Nicoya Peninsula. Contact Thomas at post@bahiarica.com or visit www.bahiarica.com