By Thomas Jones • Bahia Rica Fishing & Kayak Lodge
The fishing inshore has slowed a little as the clearer water has moved into the area. This makes catching bait a little more challenging. Still we are catching roosterfish, but not on every trip. There are patches of sardines moving in and finding these has given us some fun top water fishing. The offshore is getting good and we have some nice billfish action less than 25 miles out.
For the next couple of months, we expect more and more sardines to make their way into the gulf and along the coast. This drags with it a host of predators like snappers, seabass (corvina), rainbow runners, skipjack tuna, mackerel, jacks and roosterfish. This makes for excellent top water action. The jigging on the rocks usually picks up with jacks, seabass, snappers and amberjack making up most of the catch. The roosterfish are scarcer, but it is the time of the year when the big boys are caught. The key is having good bait.
Offshore should remain good with sailfish being the main catch. Marlin, tuna and mahi should also be around in smaller numbers. Tight lines to all!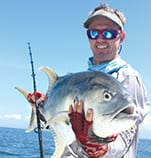 Thomas Jones is a marine biologist with an extreme passion for sport fishing. Born in Norway, Thomas have been fishing since the age of 6. His fishing experience encompasses fly fishing, trolling, popping, jigging and bait fishing. Currently Thomas is the owner of Bahia Rica Fishing and Kayak Lodge on the Nicoya Peninsula. Contact Thomas at post@bahiarica.com or visit www.bahiarica.com